Art and visual communication come together in senior show
On Nov. 8, Surge: the Second Annual BFA Visual Communication Design Senior Capstone Exhibition opened in the Fine Arts building galleries. Both the main floor and the third floor galleries, will feature various pieces from Bachelor of Fine Arts senior students from the visual communication course.
The show features everything from branding concepts to animation, and even a display of type, for all to admire. The journey toward this show has been a long five-year wait for these students. These seniors have been accumulating an array of useful and inventive knowledge in their various art and visual communication courses for years now, all leading to this impressive exhibit to display their years of practice and hard work.
"This group of students has an outstanding work ethic, and are very creative," said Tobias Brauer, graphic design professor and coordinator of this particular gallery.
While there are no specific guidelines or qualifications for the show, students are required to choose a subject that provides an accumulation of the knowledge they have acquired over the past five years.
Each of the pieces displayed in the exhibit provides a different insight and look at what visual communication really is. Each piece has meaning and is more than just a simple piece of art.
Not everyone knows what visual communication is, and some assume it to be simply one thing that visually aids an idea and not the wide array of ideas that it encompasses. This exhibit displays every aspect of what visual communication truly represents.
"[The exhibit] provides a good scope of items," Brauer said. "People don't automatically get what it [visual communication] can be, and this exhibit shows all sides of it."
Every piece is something unique; like Jeremy Jett's card deck designs, Daniel Calderon's technology animation and Andrew Stewart's Death Valley packaging designs.
Brauer couldn't be more proud of his visual communication students.
"[The pieces are] absolutely outstanding," Brauer said when asked what he thought of his students' displays and inventive pieces of artwork.
Whether the overarching theme chosen was Batman, Sunglasses for Vampires, The Seven Deadly Sins or Ice Cream branding, each student's display provides a new, interesting and exciting insight and look at the art of visual communication.
"I'm looking forward to it," said Julie Mader-Meersman, graphic design professor.
If you're interested in checking out the exhibit, it runs Nov. 8-16, with a second batch of pieces being displayed Nov. 29 to Dec. 7, in both the main gallery and third floor gallery in the Fine Arts building.
About the Contributor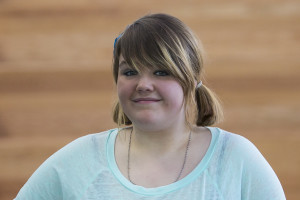 Nancy Curtis, Editor-in-Chief
Nancy is a senior pursuing a Bachelor's degree in journalism with a minor in popular culture. At The Northerner she formerly held the positions of staff...