Mother's battle with cancer inspires 2 NKU sisters
Mariah Manson and her sister Maya have seen the effects of cancer right at home.
The sisters came up with the idea for Cancer: Let's Fight Together after watching their mother, Stacey, struggle with and eventually beat colon cancer.
"Our mother was diagnosed with stage three colon cancer about two years ago, so we were in college and it was hard because we were away from her," said Mariah, senior elementary education major.
While Stacey was fighting cancer, she was also finishing her master's degree and started a group that mentored young girls.
"It's just impactful to see someone go through something so difficult, but find joy in doing things that people didn't think she'd be able to do," Mariah said.
The March 25 event was split into two main parts. The first was informational while the second gave people a chance to share their story.
Tables were set up around the Student Union Ballroom and each one had a person to talk about a different form of cancer.
Matthew White, senior integrative studies major who was on the planning committee for the event, said they wanted the information to be preventative.
"Sometimes you can stop it before it gets to the point where you're going through radical chemotherapy," White said. "We want to help you get information before then."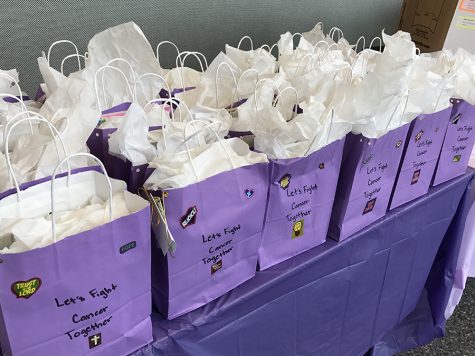 White said he felt the event went well and was inspired by the support the event had. However, he admits he didn't really see "the vision" during initial planning.
"The most impactful thing was being able to see the vision come together and see the support and see the gift bags we put together for cancer patients," White said.
In addition to the gift bags, there was also a photo booth from Cincy Snaps, a breakfast buffet and raffle.
"We want to be informational, we want to have fun, cancer is kind of this thing that can be presented in a uplifting way, but sometimes it can be sad so we wanted to find a mix and balance where you're left with the information and not feeling down," Mariah said.
There were also a few cancer survivors, one of which was Stacey, who spoke about their experience battling the disease.
Tekiuh Hutton, senior psychology major, said hearing these stories was her favorite part of the event.
"I was really happy that so many people shared their stories and gave us a personal insight to their journeys and what they went through," Hutton said. "It had me in tears a few times."
In addition to being informational and hearing the survivor stories the event also gave Hutton a support network.
"There's people there that you interact with everyday who know to some degree what you're going through," Hutton said. "It's really nice to know that there's people who share your passion to see your loved ones get better."
After Stacey spoke about her battle with colon cancer, everyone grabbed a balloon and made their way outside for the balloon release.
Those with balloons stood in a circle and one by one let go their balloon and said the name of a loved one who had or was fighting cancer.
"Seeing all these people come together makes you realize you are not alone and you don't recognize the power of people who have gone before you and fought the same fight," Mariah said.
Mariah said she felt the event laid the foundation for more events of the type. While she and her sister are seniors, she said she hopes the event can continue after they're gone.
"I wanted to make an impact, help people who went through cancer, but these people who have been through cancer are impacting me," Mariah said.