Student-run film festival to show top independent films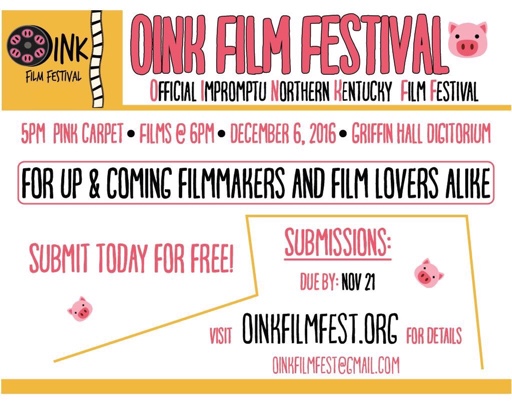 Roll out the pink carpet.
NKU students will host the the inaugural Official Impromptu Northern Kentucky Film Festival (or OINK for short) 5 p.m. Tuesday in Griffin Hall's Digitorium.
The film festival will mainly showcase the Tri-State area's best work in independent film, ranging from narrative, documentary, music video and experimental. Any filmmaker was welcome to submit, and 40 submissions were received.
Students in the class Film Festivals, a special topics course taught by EMB Assistant Professor Sara Drabik, decided to host their own film festival after their initial plans to partner with a Cincinnati film festival were disrupted by a deadline change.
The students began planning the event in November, which explains how the festival received the "Impromptu" in its name.
In addition to showing the films, the festival  will also feature live jazz music, pizza and an OINK backdrop for pictures.
And yes, there will actually be a pink carpet.
Informatics student Jacob Pangallo sought to establish a pig-themed brand for the event. In true OINK fashion, the festival will feature a "Hogspitality Suite" to enjoy refreshments and hand-painted pig sculptures as awards.
Pangallo was tasked with working communications for the event, so he and other film students created social media accounts encouraging film submissions, as well as created on campus flyers and promotion throughout Griffin Hall.
"We wanted to create an event that the whole campus knows about," Pangallo said. "It was a struggle working in such a short timeframe, but that just shows that when a group of people work hard together, you can create something awesome."
The event will be hosted by Peyton Larter, a junior EMB major in the film festivals course. Larter was chosen by his classmates to host because of his experience in stand-up comedy. He is excited for the event and was impressed by the submissions the event received.
"I'm really happy with the turnout, we received a lot of great films," Larter said. "We even had international submissions from three different countries. I hope this event will be something that all of NKU will look forward to."
The students were responsible for choosing which films would be shown at the event, as well as picking the award winner of each category. Ultimately, 17 films were chosen, lasting a total of 90 minutes.
Aside from the four awards for each category, judges from the local film community will be in attendance to choose one film, from any category, for the Judge's Choice Award.
Audience members will also be able to choose their favorite film of the night by voting online to award the Audience Choice Award.
Drabik commended the hard work and dedication her students showed to host this event, especially on such short notice.
"You can only learn so much in class," Drabik said. "There's so much that goes on behind the scenes of a film festival that you don't really realize until you do it."
Drabik says that she and her students have learned a lot from this year's OINK Film Festival, and they will work towards making the event better for future years.
Drabik hopes to hold the event again next year, and she hopes for even more submissions from independent filmmakers.
The films begin showing at 6 p.m. Price of admission is one non-perishable food item which will be donated to FUEL NKU.