It's On Us campaign encourages NKU to take action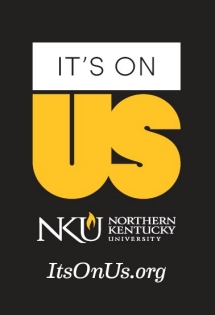 The Norse Violence Prevention Center and The Office of Fraternity & Sorority Life organized a movement across NKU calling students to make a commitment to create a community where sexual assault is unacceptable.
Since the national launch of the campaign in Sept. 2014 by President Barack Obama and Vice President Joe Biden, over 215,000 individuals have taken the "It's On Us" pledge, according to NotAlone.gov. Additionally, 370 schools in 48 states have hosted a total of 625 "It's On Us" events.
NKU's "It's On Us" initiative was presented last year and was showcased on Sept. 30 during Fall Fest.
This year there will also be events, beginning on Sept. 26, that reach out to everyone in the community and encourage athletes, coaches, students, faculty and alumni to be more than a bystander.
NKU President Geoffrey Mearns, in an email to the university, encouraged students to participate in the week long events stating, "It's on all of us here at NKU to come together and recognize the vital role each of us must play in stopping campus sexual assault. It's our responsibility to help make NKU a safe place for students, faculty, and staff."
Director of Norse Violence Prevention Center Gabby Dralle believes the campaign brings the campus community together and helps everyone see their role in preventing sexual violence.
"This kind of action needs to come from the community, it's not one particular group," Dralle said. "Even if someone has the smallest of roles, it still makes a huge impact. It's mobilizing communities."  
Dralle also thinks the campaign is helping to reduce and prevent sexual assault rates and giving support to student survivors.
"We have students who care about their community and friends," Dralle said. "They want to stop this from happening to people or someone they know and care about. We've had phone calls and people come to the center to figure out what they can do."
Collaborating with The Office of Fraternity & Sorority Life has expanded the level of engagement for the "It's On Us" campaign, as well, according to Dralle.
"I love that our Greeks are so involved in this campaign," Dralle said. "They definitely are substantial and are making this more successful and getting people to take the pledge."
To see the full schedule of events visit the Norse Violence Prevention Center page and for more information about the "It's On Us" campaign visit itsonus.org.