GALLERY: Common Ground's spring 2016 benefit drag show: Queer Factor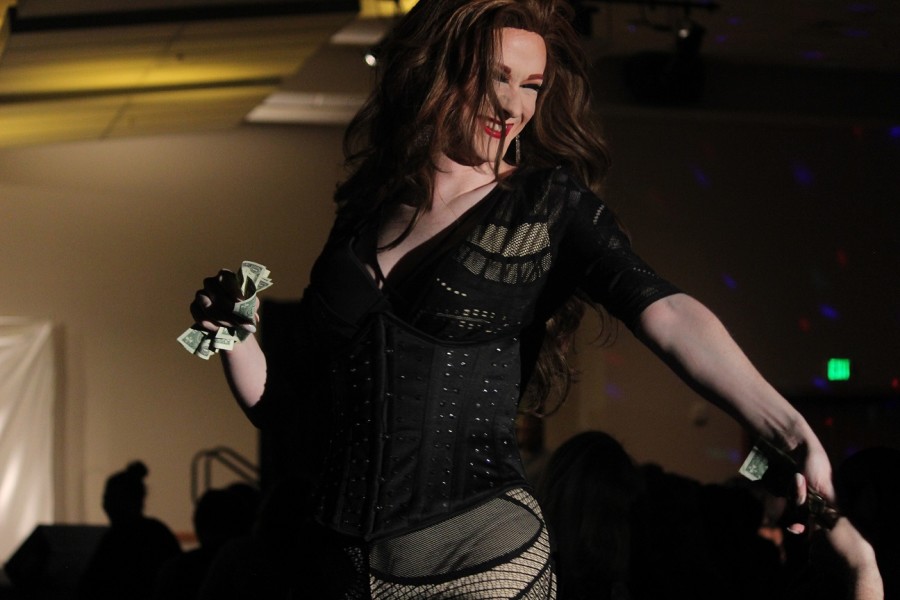 Abby Evans, Rob Gruen, and Grant Bowling
Former drag performer Crystyle Starr, who hosted Saturday's NKU drag show, addressed the crowd in the Student Union ballroom before her next performance.
"Let me get the emotional part of my show out of the way," Starr said. "Life is too short to be anything but yourself."
Co-hostess Mirelle Jane Divine draped herself on the stage, exhausted from her performance.
"I think I'm going to be nauseous," Divine quipped.
This was just a portion of the mixture of humor and heart the attendees of Queer Factor, the Spring 2016 benefit drag show, experienced Friday night.
Common Ground, NKU's gay/straight alliance organization, puts on a drag show every semester. Ticket sales and donations are split between funding their own organization and donating to the Greater Cincinnati chapter of the Gay-Lesbian Student Education Network (GLSEN) program.
Grant County resident Natalie Braxton does not attend NKU, but she has attended every drag show NKU has hosted for the past three years, as well as others at bars and clubs. Warner attends NKU's drag shows specifically because they are put on to raise money for causes she feels passionate about.
"I'm pansexual, and I was always afraid to really express myself when I first accepted it, out of fear of being bullied or judged," Braxton said. "But you shouldn't be afraid of being you, and that's why I love shows like this. They encourage being true to yourself, and they benefit organizations that teach young people to not be afraid to exist."
Guests donated through tips to the performers, depending on whether they liked their outfits, their dancing, or their stage presence overall. Performers included NKU students and alumni alike, with stage names like Sarah Jessica Darker, Tara Newone and Justin Beaver.
Starr spent her time as emcee and host interacting with the audience between performances, mostly through loving insults and quick-witted commentary. Starr searched the crowd for one person in particular – a twelve year old dressed up in her own drag outfit for her first public appearance.
According to Starr, while preparing for the show, she saw a Facebook post stating that the drag queen fan, who later revealed her stage name to be Chi Chi Chanel, was going to be attending the show in drag for the first time.
Starr brought Chanel out into the aisle and into the spotlight to show the crowd her glistening gown.
Sara Warner, an undeclared freshman, attended the show for the first time. After the experience she had, she confirmed that it 'definitely won't be the last show'.
"The colors, the music, the energy, I loved all of it!" Warner said. "Crystyle was so funny in such on-the-spot situations, and giving Chi Chi the spotlight was the sweetest thing I've ever seen."
Starr revealed that Beaver, an NKU alumni and popular guest in the benefit drag shows, was giving his last drag performance ever that night.
Beaver gave the final performance of the night to Coldplay's "Viva la Vida", with over thirty members of the crowd surrounding the stage to tip the performer. What Beaver didn't know was every performer from that night lined up behind him, each extending a dollar of their own to give him when he finished to honor his commitment to the show.
The show ended with a final round of applause for the performers as they gathered back to the stage. One additional star joined them: Chi Chi Chanel.
When Chanel walked down the stage, her look a mixture of disbelief and joy, not a single person in the room remained seated as they applauded her.
"Seeing people support Chi Chi was the best part of the show for me," Warner said. "People may still be bigoted, but there's still a lot of love and support in the world, and we definitely saw that with the reaction to Chi Chi tonight."