BREAKING: Weber, Wilshire win SGA presidential election
With five slates running for the Student Government Association president and vice president positions, Will Weber and Ellen Wilshire came out on top, receiving a total of 291 votes from the student body. 
A group of 30 students cheered as Chief Justice Joey Smith declared the pair winners of the 2016 Student Government Association presidential election at 10:22 p.m. on March 31. 
Weber and Wilshire beat the nearest candidates, Katherine Hahnel and Kaitlyn Schaefer, by 73 votes.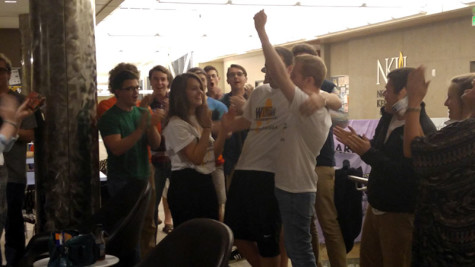 Weber said he is ready to start putting the points of his campaign into action. 
"It is time to bring a new day for SGA," Weber said. "We're going to get down to work right away — learn, listen and act, focus on student success, community engagement, campus innovation, and we're just getting started. We're going to put NKU on the rise." 
Vice President Wilshire, who is new to the Student Government Association, reiterated that they are ready to tackle their platform points. 
"This is brand new to me so I'm ready to dive in, get right into it, and do everything that we talked about in our campaign," Wilshire said. 
Below is a complete list of votes.
| | |
| --- | --- |
| President / Vice President | Number of Votes |
| Will Weber / Ellen Wilshire | 291 |
| Kat Hahnel / Kaitlyn Schaefer | 218 |
| Devin Mason/Christian Miller | 110 |
| Bradley Blankenship/Kyle Gottmann | 83 |
| Hunter Poindexter/Scott Sanker | 77 |
| Kyle Taylor/Brian Murray (write-in) | 26 |
|   |   |
| Secretary for Student Involvement | Number of Votes |
| Miriam Davis 605 | 605 |
|   |   |
| Secretary for Public Relations | Number of Votes |
| Sami Dada 367 | 367 |
| Joey Yerace 320 | 320 |
|   |   |
| Secretary for Administration Votes | Number of Votes |
| Taylor Gagne | 606 |
|   |   |
| Student Senate (top 25 elected) | Number of Votes |
| Caroline Winstel | 360 |
| Madison Vaughn | 338 |
| Rebecca Hepner | 328 |
| Ryan Gray | 317 |
| Chase Britt | 312 |
| Ben Anderson | 299 |
| Onyi Okorie | 297 |
| Maggie Smith | 296 |
| Isaac Dailey | 291 |
| Bradie Anderson | 284 |
| Austin Stevenson | 282 |
| Cynthia Mentrup | 280 |
| Dejah Rawlings | 278 |
| Cole Curtis | 274 |
| Dasia Bartlett | 273 |
| Evan Berkemeyer | 268 |
| Spencer Sutton | 267 |
| Chelsea Smith | 257 |
| Ethan Bechtol | 245 |
| Iain Applebee | 245 |
| Kayla Brewer | 242 |
| Benjamin Sanning | 236 |
| Jachelle Sologuren | 232 |
| Hope Sherman | 229 |
| Emma Vincent | 229 |
| Mikaela Mustaine | 206 |
| Christian Brashers | 183 |
| Justin Biggs (write-in) | 5 |
|   |   |
| Judicial Council (top 5 elected) | Number of Votes |
| Alex Vest | 419 |
| Ethan Losier | 402 |
| Haley Madden | 392 |
| Walker Mettens | 372 |
| Jacob Englert | 334 |