GALLERY: Best Buddies has a 'latte love'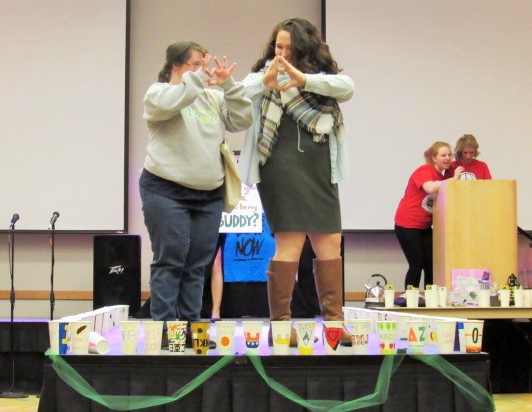 Best Buddies stomped the runway, showing their spunky personalities and sporting attire from their sponsor's organization on Tuesday night.
Best Buddies is a nonprofit group that helps people who deal with intellectual and developmental disabilities by partnering them with an NKU student.
The fashion show is one the biggest events for the program, promoting inclusiveness and bringing awareness to the campus community.  
"A big part of our chapter is ending the 'R' word," Bethany Ellen, vice president of Best Buddies, said. "So many people use that word not meaning someone with a disability but it ends up coming back to that. It wasn't until I heard one of buddies say it makes me feel like being me is bad, that's when I said we have to stop this now."
Members hope that through the show people will realize that people with disabilities need friends and aren't all that different.
"They deserve friends," Rachel Galati, junior elementary education major and member of Alpha Omicron Pi, said. "We want to show that we're all the same and to get more people involved with becoming friends. It's really sad that they're not given the opportunity to have close friends because of stigmas. That's what we're all about, breaking down those barriers and showing everyone that they can be your very best friend and you can do normal things. We want everyone on campus to see that."
Galati's buddy, Kelsey, wore an AOΠ bid day shirt and strutted to Disney's "Snow White" iconic song "High Ho."
"She is really shy so it's nice seeing her come out of her shell," Galati said. "She loves Disney music and our bid day shirt was Disney themed, so it worked out perfectly."
The fundraising event is coffee themed A Latte Love, where an organization can sponsor a buddy for $20 or pay $30 to support a buddy and their partner.
Hunter Poindexter, an economics sophomore, member of Sigma Phi Epsilon-KY Eta, and peer buddy anticipates a lot of excitement and entertainment.
"I think that our directors do an awesome job here," Poindexter said. "They really make sure that people with Down syndrome has someone to be with them and make sure they can live normal lives. It really is something special, I can't stress enough how great this organization is."
Dressed as a barista, 5-year-old Ellie Hammond was sponsored by Sigma Phi Epsilon-KY Eta. She flashed her 100-watt smile as she reached the end of the runway, dancing to stanky leg and watch me whip.
Brody Flynn, 18, was another buddy that showed of his dancing skills, jiving to "Teach Me How To Dougie."
"I'm going to surprise everyone tonight and be a Soulja Boy," Flynn said. "I want to be a rapper and pop star tonight at Best Buddies awesome fashion show."
The stage was lined with decorated coffee cups, where audience members made donations to the one they thought was most festive.
At the end of the show, Scott Sanker was announced the artist that won the cup contest, although all the members won prizes.
But nothing compared to winning the hearts of the buddies and bring the NKU community together for disability inclusion.