Dinosaurs roam Griffin Hall
It's not a bar crawl, but a campus crawl. Disney Pixar is taking part in a program that invites the creators of big-name animated movies to college campuses.
Northern Kentucky University happened to be one of the lucky ones bringing Character Art Director Matt Nolte for Disney Pixar's "The Good Dinosaur" coming out this Thanksgiving.
Nolte took to the podium in Griffin Hall's Digitorium Tuesday with a smile on his face as stood before a packed audience. Students, faculty and other attendees filled every seat and opera box. Folding chairs had to be brought in to accommodate the crowd.
"The art happens in the colleges," Nolte said. "I wanted to be where I am where you are."
Nolte began by introducing the production team including Director Peter Sohn and Producer Denise Ream.
Arlo is the main dinosaur in the movie with his companion, Spot. The main concept of the movie poses the question, what if the meteor missed?
Following the theory that the meteor missed, dinosaurs were able to evolve and adapt. Arlo and his family are now farmers and act like cowboys. Cities are not mentioned in the movie, but it's mostly open fields. Everything is fine until Arlo falls into raging waters and ends up helplessly lost.
"I relate Arlo mostly with my son," Nolte said.
Arlo's design comes from an 11-year-old child who is is still small, but is slowly growing into himself.
"It's about getting that awkward stage," Nolte said about when he was trying to get his character design just right.
During the time Arlo is lost, he finds a friend named Spot who is a human boy. The age-old tale of the boy and his dog is brought to life, but this time the dog is the boy. Arlo assumes the role of caretaker and gradually develops a friendship with Spot.
Nolte showed the scene where the friendship begins to flourish through chasing fireflies and learning about each other's families. Not a dry eye was left in the room.
"We'll all get together and hold hands," Nolte joked after seeing the reaction.
The presentation continued with short clips of the upcoming movie. Nolte also showed facial tests of the characters, which are different facial expressions of the characters such as happy, sad, angry and excited.
This part of the presentation benefited those interested in modeling and animation such as senior media informatics major Nick McIlvoy.
"Our professor gave us free time to come," McIlvoy said. "It's nice to see what Pixar is up to. It'd be nice to work for them."
McIlvoy found the presentation to be helpful and insightful.
"It was really good," McIlvoy said.
Nolte noted that one of his favorite characters to work with was Arlo's father, Butch. This caused Nolte the challenge of animating a T-rex while also making him seem like a cowboy.
"I basically had to break the T-Rex's spinal cord," Nolte said. "But I had to maintain the science [of his mouth]."
However, Nolte said that he really enjoyed the process.
"I wouldn't have done this on my own," Nolte said. "It's unique."
Following the main presentation of the animations, a Q&A session began.
Questions included what it's like to work on these kinds of big projects and what to look for.
"It's all collaborative," Nolte said. "You have to check your ego at the door."
Students also asked about what his journey was to where he got to where he was. Nolte said that he actually began at Pixar immediately after school since he took an internship.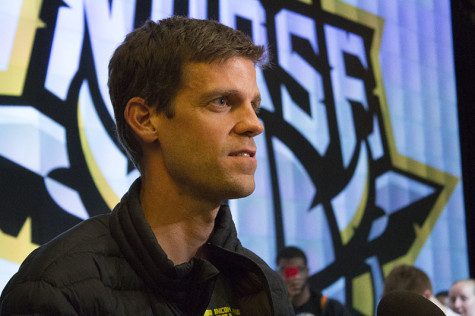 After the presentation ended, the audience was able to come up and talk to Nolte while also getting autographs.
Associate professor Chris Strobel attended the event and encouraged students to attend. Strobel mentioned that he is glad that Nolte was presenting the same attitudes that Strobel and other professors try to convey to students.
"It's great and every question was on point," Strobel said. "I hope that our students found something to be inspired. Just keep working at it and things will happen."
Support and encouragement are important factors when it comes to artists. Nolte mentioned that his main support came from his parents since his mother was an artist.
Nolte's advice to aspiring artists would be to never give up and talk to their heroes.
"I still can't believe I'm doing this," Nolte said. "But the people around me did."