Game Room's first tournament a smashing success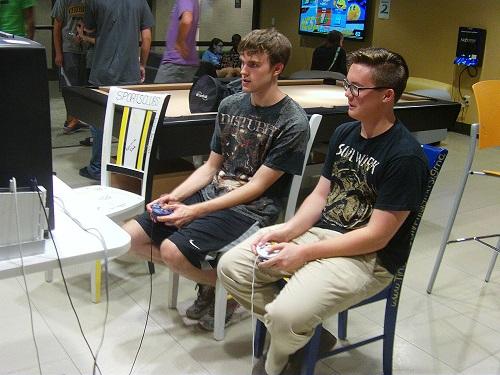 Fans headed towards the first floor of the Student Union on Sept. 3 to participate in a Super Smash Bros. tournament.
The game room hosted the tournament where the sign-up sheet was completely full.
The past Super Smash Bros. tournaments have always drew in crowds but the employees usually allow a smaller amount of students, around 20, to compete. However, the initial sign-up estimate for this competition was 64 players.
Trent Mcpheron, game room employee since 2007, has played Super Smash Bros. his entire life. This super fan decided to enter the tournament where he was shocked by the number of players.
"There's a lot of people here," he said. "We can't have a loser's bracket, because there are too many players. Having double elimination is great because if you end up with a bad matchup, you aren't completely out."
All six gaming stations had to be used, and competitors were advised to bring their own Wii U, to create a fast and easy going process.
Paige Moore, senior biology major and game room employee, has been organizing the tournaments in the game room since opening in 2009.
After the first successful tournament, Mortal Kombat, Moore produced a second one, Super Smash Bros. Brawl, which is where the popularity began.
"Super Smash Bros. is already a popular game, but I think people keep the hype alive and really love the game so it's really infectious," Moore said. "You can't help but be excited for some reason."
Moore wanted to get students' attention from the beginning of the semester with a big and fun competition. Super Smash Bros. was the perfect choice. The staff knew they made the right selection when they received high numbers of sign-ups.
"But I did have to cap it because I didn't want to overwhelm myself. We could have easily had 80 people, so I had to stop it at one point," said Moore.
Adrenaline was pumping in the air, as the tournament raged on well into the evening. Some students even hoped players wouldn't show up, so they could fill their spot.
Preston Meace, junior majoring in computer science, sent an email to the game room the morning of the tournament, asking to sign-up, but all the spots were already taken.
"I didn't realize you had to formally sign up, I was hoping you could just show up and participate, sort of thing. But everyone's here and taking their spot," Meace said.
However, Meace did enjoy watching students play and tried to figure out how experienced a person was based on their skills.
Chris Ortiz stood out from the rest of the crowd. A senior majoring in human services and philosophy, Ortiz has been playing competitively since 2012 and has traveled to places like Michigan and Chicago to compete in Smash Bros. tournaments.
He typically places in the top 8 and has won some tournaments such as, Cincinnati Smash Revival.
"Chris Ortiz is going to win this tournament, no doubt," said Mcpheron, earlier in the competition. "He's one of the top 5 players in Ohio."
Mcpheron's predictions were correct, Ortiz came in first, winning $25 in all card money. Joshua Mason won second, receiving $10 in all card money and Kevin Montes placed third, getting 2 hours of free game play.
However, Ortiz had other goals besides winning. He was hoping to start a smash scene, Smash Bros. competitive sport and find students who might be interested in joining the Super Smash Bros. club.
"There's two kinds of fans, there's people who just want to play casually, which is perfectly fine, and then there's people who want to take it to the competitive level and those are the kind of people I'm looking for," Ortiz said.
This tournament is what started the Super Smash Bros. club on campus.
Moore said, "I don't think the club would have happened without these tournaments bringing all those people together. It just started because we've had so many people signed up."
When there isn't a tournament taking place in the game room, it's still a fun hangout spot for students.
"I feel like the game room is a sorority and fraternity in itself," Ortiz said. "It's somewhere to go every day in between classes to talk with friends."
Moore thinks that a lot of people don't know the game room exists and is hoping to make it more known throughout campus.  
"I can't tell you how many times someone comes down to the game room and says they didn't know this place was here," she said.
More information on the game room, such as hours and events can be found on Facebook, NKU Game Room, or on the NKU website.