Job Expo serves multiple purposes
The blue men are here. No, not the music group, but the child-sized cutouts placed across the entire campus, and they all convey the same message: Job Expo approaches.
This annual Northern Kentucky University career fair takes place on Wed. Feb. 25 in the Student Union Ballroom and throughout the halls. From 3 to 6 p.m. representatives from over 120 local companies will meet with sophomores, juniors and seniors of all majors who are interested in either full-time jobs or internships and co-ops.
Everybody receives the same generic email tips about the career fair year after year: "wear this, make sure you bring that, don't forget to read these tips beforehand, etc. etc." And one can find all of that same information in more detail on the Job Expo page through NKU's official website.
But what's new this time around?
According to Career Services Director Bill Froude, a few things have changed.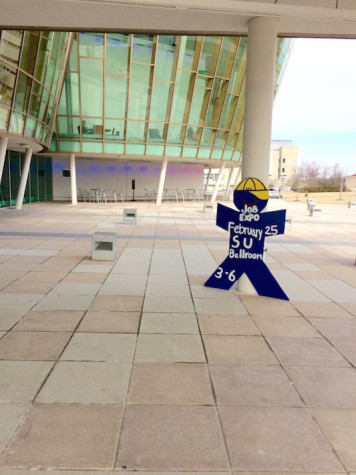 Between this year and last, the number of employers attending Job Expo increased from 112 to 128, and over half of the companies showing up for 2015 didn't attend in 2014.
"Now, this doesn't mean they haven't come to campus before," Froude said. "They just didn't come last year."
So for students who attended last year but perhaps felt they left empty-handed, this Job Expo may offer a different selection.
"I went to the career fair back in September looking for a summer job or internship," sophomore finance major Kyle Graham said.
However, his search yielded no follow-up interviews.
"Most of the companies were wanting someone immediately," Graham said.
After talking to 22 employers, most of the internships he found were unpaid, didn't pay enough, or required a full-time commitment.
However, Graham did come away from the career fair with a lot of contact information and some useful experience. Plus, he developed a system for the next time he attends: talking to the companies he's least interested in first, then working his way up to the companies he's most interested in.
"That way I was already warmed up for my top companies from all the practice runs with the others,"  Graham said.
Sometimes students don't plan to attend but even on a whim, career fairs offer "amazing" opportunities—which was the case for Katie Schoster, a sophomore CIT major. She attended the STEM & Nonprofit/Government Career Fair in October as "a spur of the moment kind of thing," persuaded to go the day before.
"Thankfully I had my resume ready to go, which is the most important part," Schoster said.
She now believes career fairs are super beneficial, and earned a summer internship position at GE Aviation due to her last minute decision.
In regard to majors that may benefit the most, students in the College of Informatics or those studying human resources, accounting or business are highly likely to find something at Job Expo.
"IT is hot right now," Froude said.
Froude believes it's about being flexible; and  more than anything, it's about networking.
"This year is we're going to have a photo booth for students," Froude said. Danny Moore (Director of African American Programs & Services) will photograph students in their professional attire and the pictures will be posted to the Career Services Facebook page for students to use on their LinkedIn or Norse Recruiting profiles (or however they want).
Froude also urges students to have their Norse Recruiting profiles and resumes uploaded and ready before Feb. 25 so they can be added to the "resume book" given to employers at Job Expo. And of course he hopes students will utilize Career Services to prepare by attending the program's resume and interview workshops in the coming weeks.
Students can look online at the list of employers who registered for Job Expo this year, as well as what majors they seek and which positions they want filled.
"Even if there's only one employer on this whole list that's a good fit for you, it's worth your time to get dressed up, go to the ballroom, talk to that employer and make that impression," Froude said. "They're looking for NKU students. They are specifically coming to campus looking for you."