Shaking with laughter
Dimmed lighting, the NKU emblem brightly adorning the walls of the Student Union Ballroom and the stage set with a single microphone and long-legged stool—NKU students and the surrounding community found a seat among the 478 individuals who made their way out for a side-splitting time with comedians Ben Bergman and NBC's The Last Comic Standing winner, Josh Blue.
Hosted for the first time by the Disability Programs and Services in coordination with The Students of Inclusive Excellence, the preparation to create such an event began almost a year ago.
"Love that push-up bra…it really brings out my eyes," said first up to the mic., Bergman, who welcomed the crowd to the uncouth jokes that made up the majority of the night's show.
Former NKU student from the Taylor Mill area, it wasn't Bergman's first time meeting Blue or his first attempt at "surfing the laughter", who got his start in Nashville back in 2007.
"We kicked a soccer ball around and acted goofy at a place called the Showroom," Bergman said of his first accounts with his fellow comedian.
Blue, a member of the U.S. Paralympic Soccer Team is perhaps best known for his self- depreciating act which pokes fun at his Cerebral Palsy.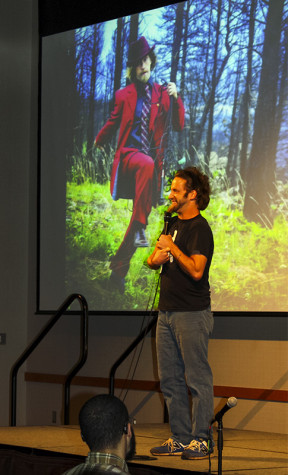 "He is probably one of the most well-known celebrities with a disability," Cindy Knox said, assistant director of disability programs and services.  "We love the way he looks at his disability and can make everyone else laugh. He keeps it light-hearted."
Blue even took the privilege of incorporating the American Sign Language interpreters into his stand-up comedy routine, drawing attention to their signing and joking that they should stop mocking him.
"We assumed it was going to happen," American Sign Language interpreter Mandy Donohoue said when asked about her and her ASL teammate's improv involvement in Blue's show. "Josh is a really funny comedian; it is really fun for me to interpret."
Hearing impairment wasn't the only disability to be poked fun at Thursday night as the microphone broke apart for a second time moments after the applause erupted from Blue's first attempts at fixing the incident.  The crowd responded with roaring laughter.  
"Sometimes when it comes to disability, some people are cautious," introductory speaker for Disability Programs and Services, Glow Beingana, sophomore communications major, said.  "We were laughing together, he would laugh, too. He made it a comfortable setting."
Professionally "practicing" stand-up comedy for ten years; Blue states that he is still learning.
"Everyone is an individual but to make a group of people come together on a thought and laugh is a cool event," Blue said.
Blue was the winner of NBC's Last Comic Standing and was even asked to be the Keynote Speaker of his own alma mater, Evergreen State College in Olympia, Washington.
"Thank you for letting me say this shit out loud," joked Blue, who was met with a standing ovation and uproar of applause as he brought his act to a close.
The laughter continued as individuals recalled their favorite moments as they made their way out of the ballroom and formed a line to meet and get their photo taken with both comedians.
"The people that showed up were here to laugh," Blue said. "If they weren't, I made them."