Dr. Lori Hart tells students "everything they always wanted to know about the opposite sex"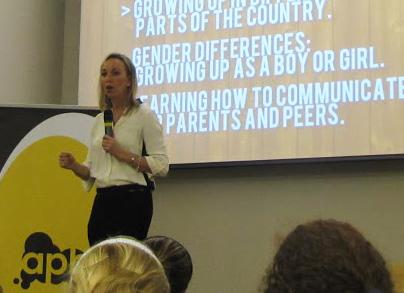 Students shifted in their seats murmuring excitedly as they waited for CAMPUSPEAK's Dr. Lori Hart to give her talk on opposite sex relationships in the SU ballroom on Nov. 11.
Hart began by asking everyone what they found most mind boggling about the opposite sex.
Several women's hands shot up immediately, asking questions about men such as "why do they have selective attention?", "why do they have no concept of time?", "why are they so simple?", and "why are they terrible at multitasking?".
One man countered with "why do women treat men like they're all the same?"
Hart discussed all of these issues in her speech, talking first about physical differences in men and women's brains.
According to Hart, the areas of men's brains dealing with aggression and sex are much larger than that of a woman.
Hart talked about a research study that found men on average have a sexual thought once every 58 seconds and that women have a sexual thought on average of once a day.
Additionally, as far as multitasking goes, Hart said to think of the front of your brain as a post-it-note.
Hart said women are good about doing six things at once in their head while men are good at focusing on one task and doing it really well.
The rest of her talk delved into stereotypes, gender theories and communication.
Hart, whose doctorate is in higher education, specializes in talking to students about relationships, alcohol education, and fraternity and sorority life, visiting around 75 campuses a year.
Campus Activities magazine has even recognized her as their female performer of the year and speaker of the year.
However, Hart explained that she doesn't really think of herself as a speaker.
Hart said she likes to think of herself as a little bit of a comedian, little bit of a facilitator and a little bit of somebody who puts things out there to make people think.
"I like to think of myself as having a large group conversation," Hart said.
The couples who were there seemed to enjoy the talk, including senior entrepreneurship major Paul Kemp and his girlfriend Lexie Wallingford, a sophomore criminal justice major.
"It made sense. She talked about things that really do happen in our relationship," Wallingford said.
Wallingford and Kemp, who have been together for three months now, were singled out of the crowd by Hart, who used them to create a story explaining the differences of how men and women communicate.
"I liked it. It clarified a lot of things that bothers most couples," Kemp said.
If there's one thing Hart wants people to take away from her talk, it's learning to love yourself unconditionally.
"Until you love yourself, it's really hard for others to love," Hart said. "And I'm not talking about the narcissistic love."
She said she's talking about that peace of making decisions that are healthy for you and whatever it is that you value.
Hart said it's all about figuring out how to make those decisions so that you wake up every day and go "this feels good."
For more information on Dr. Lori Hart you can visit her page on the CAMPUSPEAK website.