VIDEO: Hundreds of children flock to Callahan for Norse-O-Ween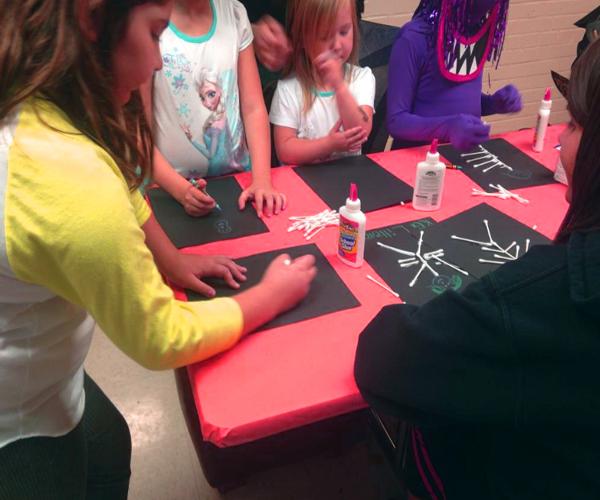 The Eighth Annual Norse-O-Ween was held in Callahan Hall on Oct.30. Running from 6 to 8 p.m. kids participated in Halloween festivities that included much more than trick-or-treating.
"Lots of candy and decorations to go around," said Woodcrest Hall director Christina Chambers said.
"There's easily over $1,100 in candy, with no peanuts,"student volunteer Emily Brunson said.
This year saw the usual bevy of superheroes, Star Wars storm troopers, and princesses. "And lots of cats, oddly," noted Chambers.
"Kids generally enjoy Norse-O-Ween as much as Halloween proper,"  Chambers, who organized the event. "Babies think it's cool because it's new to them. Older kids think it's neat because [of the novelty] of being in a building."
While previous years included candy-centric themes like Candy Land, this year featured Willy Wonka and the Chocolate Factory. There were Oompa Loompas on the walls, students giving out Everlasting Gobstoppers, Willy Wonka top hats and even the Gene Wilder film playing in the halls.
"This year the Bistro [Callahan's dining hall] is involved, and we even have a chocolate fountain," said Chambers.
Kids could also participate in activities other than trick-or-treating. Children spent their time making skeletons out of cotton swabs, ghost bowling, coloring, and taking candy bags from provided stations. For parents and children alike it was a great experience.
"[Callahan provides a] safe environment for all the kids. It's a fun time. Students get to interact with kids and the children are safe," noted parent Dave Knox, who said that this was his family's first Norse-O-Ween.
Most families were experiencing Norse-O-Ween for the first time.
Parent Jason Yaeger noted, "It's my first time. Everything is done pretty well, especially the environment."
Callahan offered something the outdoors simply couldn't – safety. Everyone involved with Norse-O-Ween had a smile on their face, and the indoor environment gave parents peace of mind.
Chambers said they were well-prepared for the several hundred kids coming to trick-or-treat that night.
Word of mouth along with the advertisements in local schools means that Norse-O-Ween is here to stay, and is a fantastic way to expose kids to a new way of celebrating Halloween.