President Mearns crashes the party at student comedy night
Instead of resting from the first week of classes, NKU President Geoffrey Mearns decided to make a guest appearance at a student-run comedy event.
Thursday Night Live, the NKU take on the popular late-night show Saturday Night Live (SNL), is hosted by the leadership team of the Baptist Campus Ministry. For the first event of the semester the team planned a special skit with a surprise guest appearance by the university president.
Mearns said he was contacted several months ago by Ethan Wright, the president of the BCM leadership team.
"I said I'd be glad to. At that point it wasn't a specific idea. He said there'd be a skit at which I'd make a surprise appearance, and asked to keep it quiet," Mearns said.
Austin Richardson, senior accounting major and co-director of TNL, was excited to have the president appear at TNL.
"We were blown away by how the night went," he said. "We set a couple goals for the entire year: the first goal was to get President Mearns at a TNL, just to visit, by the end of next spring, and we were able to get him to come tonight, so that was just amazing. He did a good job"
Megan Fry, freshman, was shocked to find out who the guest star was.
"There were rumors that it was going to be someone who worked at NKU but I definitely didn't think it was going to be President Mearns," she said. "That was so awesome."
Mearns said the audience seemed to take a few seconds to catch on when he walked onstage.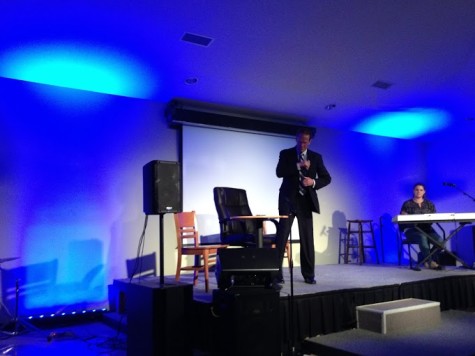 "It took a couple seconds for it to register; I think they thought I was another student," he said. "[Then] I heard the laughter and some of the cheers."
According to Mearns, the surprise is what made his guest appearance special. "I knew the surprise would be part of the effect that would make it a lot of fun for all of us," he said. "Usually people invite me and know I'm coming, so this was a sort of special surprise."
Meredith Ellis, senior middle grades education major and TNL director, said that the cast was grateful to Mearns for his surprise appearance.
"We're really thankful that he took the time to come out," she  said. "It was really nice of him."
Richardson said he hoped for an audience of between 120 and 150 students during the school year. He said that Mearns' appearance garnered an audience of 130 to 140.
"I'm like, 'how did all these people get here?'," joked Richardson.
Thursday Night Live events are held every other Thursday at the Baptist Campus Ministry building, near Landrum. The next TNL will be on Sept. 4 at 8 p.m.
Video Provided by: Andrew Kist