Bad Veins pump new life Into Victor Fest
By the entrance to the new intramural fields, a stage stood decorated with illuminated mason jars, an old green princess telephone, and a tape recorder named Irene. Freshmen and current students crowded the fields in anticipation of a band that was new to most of them.
Benjamin Davis and Jake Bonta took to the stage Saturday as the Cincinnati local band Bad Veins  kicked off Victor Fest this year.
Bad Veins introduced some of their popular songs such as "Dancing on TV" and "Kindness" which got the students dancing. However, halfway through the show, the crowd broke into circles and formed small groups while some remained near the stage to continue rocking out. The band took the response well and made jokes to mock the students who weren't listening.
Davis and Bonta thought that most of the crowd wouldn't know who they were, but they still received a nice turnout for t-shirt sales and students met with them after the show.
"The energy we do get from the people who know us is what keeps us going," Davis said. "They know when to fist pump."
Bad Veins formed in 2007 and released an album entitled The Mess We've Made in 2012. They are currently working a new album while taking "sporadic offers" for shows, according to Bonta.
"You never finish a record," Davis said. "You just have to abandon it."
The band noted that they don't really have any main influences and couldn't place favorite bands, but they know what kind of music they like to listen to.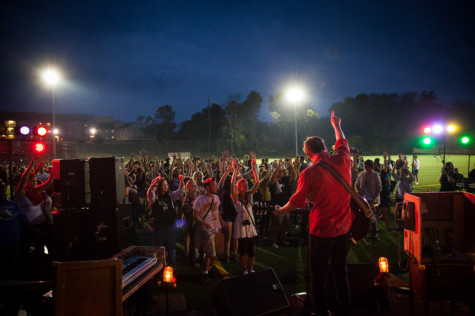 "Not crappy music," Bonta said. "Good music."
Bonta plays drums for the band while Davis sings and plays guitar. During the show, Davis grabbed the princess phone prop and sang into it giving it a distorted sound to the song.
"It's a phone song!" Chris Cole, director of Marketing and Communications, said knowing this was normal for a Bad Veins show.
The band was referred by Cole who saw them at the old Southgate House a few years back. Cole referred the band to Campus Recreation who put on the show for opening night.
According to Tanner Coleman, activity programming board's director of entertainment events, they tried to get Bad Veins about two years ago to perform, but there were some issues with space. Coleman didn't know of the band before they came here much like most of the students.
"I enjoyed it thoroughly," Coleman said. "They're pretty unique, I don't think I can compare them to anyone."
Bad Veins have traveled across the country touring with other local bands like Walk the Moon and Two Door Cinema Club. Bonta said that his favorite places they traveled would have to be California or Oregon. They hope to travel outside of the country some day.
When asked how they got started, Davis replied, "We're not good at anything else."