Eligible students arrange dates for charity
Garnering the highest attendance rate that host Jeff Iker, Student Orientation and Parent Programs coordinator, believes he has ever seen, The Bachelor took over the Student Union Ballroom on Tuesday night.
There were a total of 15 girls that were up for a date with the five eligible bachelors when the event kicked off.
"We had all of the men e-mail us; we also reached out to some really involved people," Joel Steele, the event coordinator, said. "We were looking for the most involved guys on campus and then from there we choose by surveys."
Leadership Mentor's presented the event to raise money and collect canned goods. To attend, it was required to bring a dollar or a canned good for the Brighton Center.
After the men were chosen, a call to bachelorettes was placed and they had to e-mail Steele with their basic information. After that they completed a survey as well.
"I did this last year, so this is my second year participating," said Lam Pham, a public relations major and bachelorette. "I thought it'd be really fun so I decided to do it again."
One of the bachelors, Chuck Rust said that he was fine with giving people a laugh at his expense.
"I think that it's just a fun event to bring people out," David Trump, SGA vice president and bachelor, said. "I mean it's for charity."
While most of the participants admitted that they were there to support Leadership Mentors and Brighton Center and not for a relationship, the winners were still required to go out to dinner together.
"The guys are required to go on a date, that is the whole point," Steele said. "That is what they win."
Learn about NKU's eligible bachelors
Iker, the host of the event, kicked things off by introducing each of the bachelors and having them tell an interesting fact about themselves.
Trump has been to five countries, while Landon Wilson has been skydiving and Chuck Rust is starting at Chase College of Law in the fall.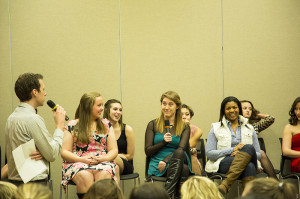 "The hosts asks each guy's bachelorettes a question, then they go down the line they answer," Steele said. "Then based on their answers the bachelor eliminates a girl until there is only one left."
Iker then asked Trump's bachelorettes to describe their perfect first date.
"My perfect date would be April 25, because it's not too hot and it's not too cold. All you need is a light jacket," said Cynthia Thomas, a bachelorette, delivering this infamous line flawlessly.
One of the questions asked by Rust was what a nervous habit would be on the first date. Emily Ries, another bachelorette, said she would probably talk about a TV show, or start rapping.
Rust recalled a blind date that didn't turn out well. However, he felt this would be different because he trusts the people in charge.
Some of the questions included if the candidate drank alcoholic beverages, past relationship, if they had any tattoos and which life accomplishments they were most proud of.
At the end of the night, all five bachelor's walked away with their chosen bachelorette on their arm.