Poets bring a little Mayhem to NKU
When poets Mason Granger, Kyle Rapps and Scott (with three t's) Raven took to the stage at the NKU Student Union Wednesday night, students may not have been sure what they were in for. But, after an hour of spoken word, it was clear the Mayhem Poets had won over some new fans.
The three friends met at Rutgers University where they started an open mic where they "got hooked," Rapps said.
"We just got addicted to poetry and performing poetry at that open mic so we started going everywhere," Rapps said.
The trio travel from "preschools to prisons" to share their words about things like race, fears, roles of women and the gospel of Dr. Seuss!
The group stood on stage and shared a poem about different races and all the things that make us different, but how together, we are all a part of the same race…the human race.
Ravens shared a individual poem about all the things he's afraid of like boxers and skim milk, but that the thing that scares him the most is just being himself, "Scott, just two t's."
Rapps and Raven shared a poem about the different women who inspire people and the roles they play in people's lives.
Granger, with the help at times from Rapps and Ravens, shared a poem about how Dr. Seuss could help people understand topics in simple terms, "that any child understands," but how people will often ignore this wisdom because adults are too mature to listen to child rhymes.
Taking the Stage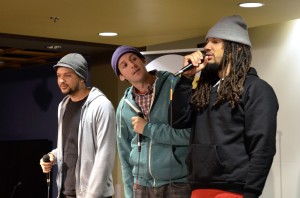 For these guys, being on stage means something different to each of them.
Granger said that since the world is so big and he's only one man, he can feel limited to what he can do about issues and how he can make a difference, but this gives him an outlet.
"Over the course of a year, I'm talking to thousands and thousands of people and [I can] change thousands of people's minds," Granger said.
For Raven, his favorite moment is getting the first reaction from the crowd.
"You know the crowd is with you and you're safe up there," Raven said.
Rapps said he enjoys it when he knows the crowd is with him too and when he feels that connection with his audience.
"It's sort of something for me that's really deep when I feel like a crowd is hanging on every word that I'm saying and that maybe what I'm saying and what I'm expressing is affecting them," Rapps said.
Sam Bowersox, junior history major was affected and after the event said, "It was awesome."
"It's not every day that you get poets that are actually worth their salt," Bowersox said. "These guys are really great.  They're fun and they're light, but at the same time, they've got some backbone and that's what I like."
Lessons Learned
One of the important lessons the Mayhem Poets want others to learn is to not let fear stop them.
Raven said, "Start your own thing on campus even if you're reading off a paper. Even if you have your back toward the audience, just get out there and do it."
Rapps agrees and said, "The first time I performed and got up on stage, I was scared. The second time, I was scared. I still get scared, but I think part of it is learning how to be scared and do things regardless."
Rapps said he likes to put himself in "scary situations" because it helps him learn how to be more comfortable with it.
"You only live once," Rapps said, "unless you believe in reincarnation."
The Mayhem poets were invited to campus as an Activities Programming Board event.