Science fiction author shares the 'gift' of humanities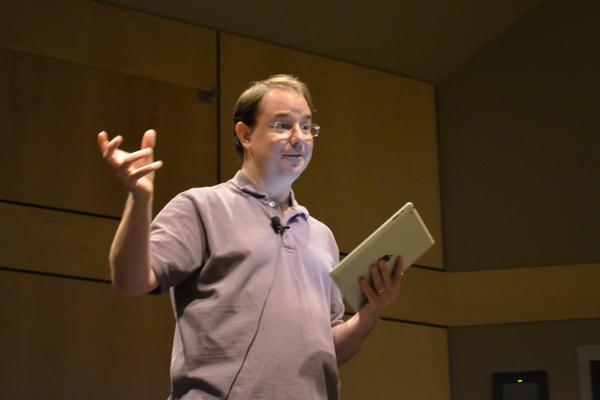 A 75-year-old man stands before the grave of his wife and says good-bye, presumably forever, before embarking on a mission to space where he'll serve as a science-enhanced soldier.
This is the beginning of New York Times best-selling science fiction author John Scalzi's book, Old Man's War.
And while some may say this isn't the way to start a science fiction novel, Scalzi disagrees.
"Why did I do that?" Scalzi asked the audience. "Because it's his story."
"What I want you to do is…feel why he leaves everything he knows to go to space…is because his heart, his reason for living is gone," Scalzi said.
This is why Scalzi says it's so important to include the human aspect to the story.
"Science fiction doesn't happen if you don't care about that person," Scalzi said.  "If you care about that person, you know that person feels and exists and is real…then that story is going to mean more to you," Scalzi said.
Scalzi said that philosophy exists in every one of his books and that "it's the gift humanities has given me."
This gift was the main focus of Scalzi's lecture on Wednesday as a part of the Viva Humanities lecture series on campus.
Scalzi said the golden age of science fiction had "incredible, sparkling, amazing, fantastic, brain exploding ideas" but the characters were all about exposition.
"I tell you what's going on because someone needs to explain it to you humans," Scalzi said in a stiff voice as the audience laughed.
"One of the great things that humanities have given me is the understanding that…before you do anything else, you have to put actual humans in your story," Scalzi said. "Then you can put the aliens…the laser…the explosions because it will be about the people to whom the aliens and lasers and explosions happen to."
Tom Burns, a UC senior in Computer Science attended the event because of Scalzi's blog.
Burns said the thought it was great and that Scalzi was an engaging speaker.
"The whole humanities thing was interesting because I haven't really heard him talk about his writing that much," Burns said. "I've heard and read his stories before but what goes into it and how he feels about it was kind of interesting."
In the beginning…
Scalzi said when he was a child, he wanted to be an astronomer and he would sneak out to watch the late 1970s PBS program, Cosmos.
"Tragically around 8th grade, I hit the math wall," Scalzi said to which a few audience members chuckled.
"I hear laughing," Scalzi said to which the room burst with laughter. "I think some of you know what this is."
"One day, you can do [math] and the next, there it is," Scalzi said putting his arm up like a wall, "and you're like, 'Ahhhh!''
Scalzi threw his hands up in the air and shook his fists to the sky in frustration.
"That was kind of a tragedy because the rumor is that in order to actually be a scientist, you kind of need to know how to do math and so…suddenly that dream was over," Scalzi said.
But when this dream died, another presented itself in the form of a composition class, a great English teacher and an eight hour "caffeine-fueled panic" to write a story the day before it was due.
Scalzi's story ended up getting the only A in the class, so he wondered why he would do something that was hard when he could do the easy thing and get attention for it.
"I was 14-years-old and attention was the crack," Scalzi said as he slapped his arm and the audience laughed. "That's when I decided I was going to be a writer."
Simeon Skilling, undeclared freshman said he attended the event for extra credit but is now going to read some of Scalzi's books.
"I'm not a really good writer so hopefully by reading some of his books and…listening to him talk it will give me an insight," Skilling said.
Writing and philosophy
While Scalzi admitted that the mechanics of writing are easy for him, dealing with the humans in the story can be really hard. This is why when a college advisor said Scalzi could graduate two years sooner with a philosophy degree, he decided to switch.
"English was interesting…but for me, there was something really compelling about philosophy," Scalzi said.
Scalzi said philosophy examines the context of literature and how our brains influence how we speak and communicate
"For me, that was just like catnip," Scalzi said. "It was something that just grabbed me in particular because I was someone who was writing. I was really interested in the philosophy of language."
Scalzi said that interest in language was something he never would have gotten if he'd become an astronomer first and a writer second.
"That is actually why humanities is important to me," Scalzi said.