MTV star Andrew Jenks speaks about determination, humility and nursing homes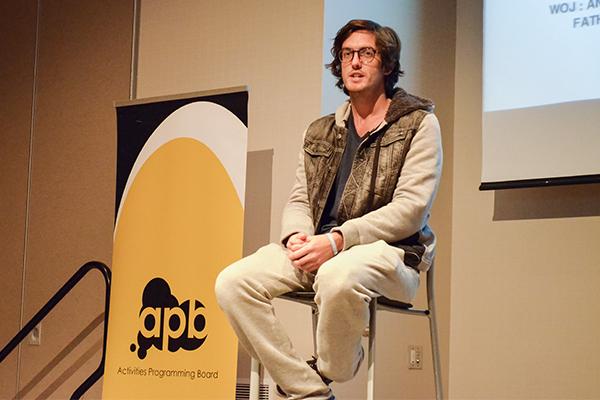 Typical 19-year-olds don't move into nursing homes for six weeks, but when MTV's World of Jenks star, Andrew Jenks thought about it, it made complete sense.
The Activities Programing Board brought Jenks to NKU to speak with college students Monday night where he explained the lessons he has learned during his movie making journey and why a nursing home was his answer.
"I hated my freshman year of college," Jenks said. "I had this breakdown, my grandfather was going through dementia and I decided I wanted to move into his nursing home and so that's what I did after my freshman year."
Jenks said he called several nursing homes in his New York tri-state area and explained that he was 19 and wanted to move in for the summer. All of them, including his grandfather's home said no.
"Most of them actually thought I was a confused person and were like, 'I'm sorry. I think what you're looking for is called an apartment,'" Jenks said with a laugh.
Eventually Jenks contacted a nursing home in Florida where the general manager said okay.
"So let me get this straight," the general manager said to Jenks, "you're 19 and you want to move into our nursing home for six weeks?"
Jenks answered, "Yeah and also we don't have any money so if you don't mind, we'd like to stay there for free and we'd also like to eat your food."
After a pause, the general manager said, "Yeah, we'll let you come and do that. That sounds good. More 19-year-olds should do that. Everyone should experience what it's like living in a nursing home."
"I know. That's what I'm saying," Jenks said as the audience laughed.
Jenks said they filmed over 250 hours of footage and then he moved back into his parent's basement edited it into a 90 minute movie.
Determined, but humble
Jenks submitted his first film to film festivals and one day he got a call that notified him that not only would his film not be included in the festival that year, but that they felt he just stop applying all together, Jenks said.
"That would be like if I applied to college and the head of admissions called and said, 'So, we're rejecting you from our university this year on top of which, we recommend you stop applying to college all together,'" Jenks said.
However, he didn't let this rejection stop him.
"The word no to me now is a starting point," Jenks said. "If someone says like, 'No you can't do this,' I'm like, 'Alright, let's go do it then.'"
Of course this advice comes within reason, Jenks said.
Jenks said people should, "Be humble while aggressive," and explained that it's good to assert yourself and not to take no for an answer.
"Believe in what you do and [be] aggressive at whatever that thing [is] that you want to do," Jenks said, "but also realize that you need to be humble and approach people the right way and be friendly."
Emily Merk, forensic biology major said she really enjoyed the event and she agreed with Jenks about being determined.
"You just gotta work hard to get where you want to go," Merk said.
Jenks said after that first movie he was contacted by MTV.
"[MTV] thought it could work as a show if I moved in with people that were more my age and not senior citizens," Jenks said.
But he admitted he doesn't really fit the typical criteria for MTV.
"I'm not pregnant. I don't have abs. I don't go out and drink every night. I'm not MTV material," Jenks said to laughs from the crowd and then added, "At least I hope not."
Humble beginnings and bright futures
Jenks said he started making films when he was in the fourth grade because his dad worked for the UN and his family traveled a lot, sometimes to countries that didn't speak English.
"The camera, as cheesy as it sounds, became my best friend," Jenks said which developed into a love of entertainment and storytelling.
Since then, Jenks has had several opportunities to meet and document the stories of many different people including a rapper, a man changing the face of Japanese baseball, and a young girl with cancer.
His latest project is following the story of Ryan Ferguson who was convicted of murder and who has been in a maximum security prison for the last 10 years. What makes Ferguson's story so interesting is his entire conviction was originally based on a man's dream and it turns out he was innocent.
"He's a really nice guy," Jenks said of Ferguson. "They just vacated his conviction a few days ago so he could get out of jail any day now."
A new aspect of storytelling for Jenks is public speaking.
"It's interesting speaking at colleges because it's a very raw storytelling," Jenks said.
Jenks explained that when he makes a 90-minute movie, it requires pre-production, several hours of filming and then post-production but when he speaks live, it's just him.
Jenks said it's like, "Here's a microphone, go entertain everyone and we'll see you in an hour and a half."
Jalan Nored, sophomore sports business major responded well to Jenks' stories.
"It's nice having someone come to NKU of this caliber and them being so down to Earth," Nored said
Jenks said in closing, "Don't take yourself too seriously, but also taking yourself seriously enough to do work that can reach people and that matters."