Runners dance in the rain for a good cause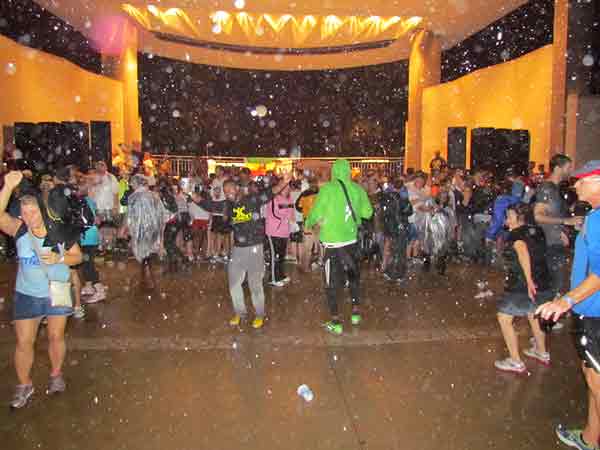 While running shoes and jogging shorts are common fashion statements at 5K events, this particular one had people combining rastafarian hats with umbrellas and ponchos.
The 20th annual Reggae Run was held Saturday night at Eden Park in Cincinnati, despite the torrential rain and threat of lightning that eventually forced the event to close early.
Runners and reggae fans filled the park space soaked to the bone to support and remember Maria Olberding, who was murdered in 1994 while training for a marathon near Ault Park, her sister-in-law and NKU associate professor, Julie Olberding said.
"Some of our friends wanted to do something to remember her so we decided that she liked to run and at the time, she liked Reggae music so we decided to combine those two things into the Reggae Run," Olberding said.
The event started Saturday with a 5K race that began near Sawyer Point, looped around Great American Ballpark and then headed up Gilbert Avenue to end at Eden Park, Olberding said.
Afterwards, participants were treated to "a four-hour party with a really great Reggae band called the Ark Band" and lots of food, Olberding said.
Of the band, Olberding said they've been with the event since the beginning and that Maria knew from working at The Beach waterpark and having Reggae Sunday's.
When the family decided to do the Reggae run and when they knew they were going to have a big party afterwards with food and beer and wine, they knew they wanted live music too so the Ark Band was the first group they asked, Olberding said.
"They have their own songs and they play cover songs and they're just very upbeat and a lot of fun," Olberding said.
The Reggae Run is a fundraising event of the Maria Olberding Foundation which has raised more than $1 million for nonprofits, including the Make-A-Wish foundation, the Starfire Council of Greater Cincinnati and the Council on Child Abuse, Olberding said.
Dick Smith, a volunteer who worked at the event and who knows the Olberding family said this was his 14th year volunteering and that his favorite thing about the Reggae Run is "just being here."
"The environment," Smith said with a big smile while standing under a tent to stay dry from the rain. "It's a big party."
Smith said he thought the new venue might have kept some people away and the rain may have driven some people who had been there away too.
The party had traditionally been held at Ault Park but Smith said they had to move to Eden Park to accommodate the growing number of people.
Kate Wesselman, Smith's niece who said she was there to spend time with her family, said people were still upbeat in spite of the weather.
"People are still here to have a good time and support a good cause," Wesselman said looking around at all the people.
Barb Shaw, a 5K participant danced along to the music and didn't seem to mind the rain.
"I love Reggae," she said over the noise of the band and it was evident she was not alone.
Several ladies were seen getting very involved in the music and one man danced while holding his hand over his beer so the rain wouldn't dilute it, but wherever you looked, people were smiling and having a great time.
Shaw decided to run the marathon because her friends were running and she had just started working out so she thought she'd give it a try.
"The hill was steep," Shaw said. "It was very humid out so it was really hard to breath, but it was really fun. For my first experience, it was great."
Shaw mentioned how at the starting line, they played Ave Maria.
"That just got to me," Shaw said.  "I love that song anyway, but to know it's for her…" Shaw choked up and couldn't finish.
Mike Hines from Avondale worked the event as a part of the Cincinnati Fire department.
Staying out of the way, but keeping a watchful eye on the crowd, Hines said the only incidences were all minor and were all at the end of the race.
"Blood pressure checks, ice packs, Band-Aids. All from the race," Hines said.
Hines said the crowd was happy but it would have been a lot more crowded if it weren't for the rain.
Looking around at the crowd and seeing the happy faces and people genuinely enjoying themselves, Hines said, "The people that have stayed, the rain didn't faze them a bit."
Eventually, the fire marshall insisted the event to close because there was lightning in the area and even though boos erupted from the crowd, they didn't have a choice and everyone had to go home.
Like Shaw said, "Hey Mon, it's all about the party."