Behind the curtain
[imagebrowser id=16]
Photos by: Kody Kahle
The year's most expensive production for NKU's Department of Theatre and Dance, "Legally Blonde," hits the stage later this month on Feb. 21. Cast members are finally at the "stumble-through" stage of running through all parts of the play as a whole and seeing how everything fits together.
Cast members, Courtni Nicolaci, Drew Blakeman and Hannah Gregory had nothing but positive things to say about their progress and involvement in the production. Blakeman and Gregory are graduating this May each with a Bachelor of Fine Arts in theatre; meanwhile Nicolaci continues to work toward her Bachelor of Arts in theatre.
Nicolaci plays the nutty and confident role of Paulette, the hair stylist that becomes Elle's confidant and friend. Landing a major role has been a long time coming for Nicolaci, as this is her first appearance in an NKU production as well as her first major role in theatre.
"It's a lot of fun playing a character so similar to myself," she gushed.
Gregory, who plays the role of Enid, one of Elle's fellow law students who is a headstrong, proud lesbian, is confident the NKU community will like the show.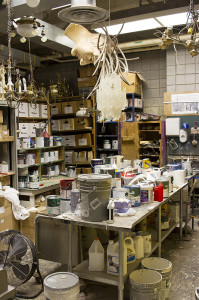 "The audience is in for a treat," she said. "There's a lot of visuals, surprises, and I really think they're going to enjoy the songs."
Among the surprises yet to be disclosed, Blakeman, who plays Callahan, Elle's pompous Harvard professor, boasts lots of rap and hip-hop dancing. "Good hip-hop dancing," he stressed.
When asked why "Legally Blonde" was picked for production this semester, without hesitation, all three cast members acknowledged the contemporary and mainstream allure that "Legally Blonde" boasts for college-age attendees.
"We always want to cater to the student body that we have," Gregory said.
"The comedy is relatable since the characters are in college," Nicolaci added.
The cast of "Legally Blonde" has rehearsal every day of the week from 7:30 – 10 p.m., except for Saturdays. As opening night nears, the cast will start practicing every day. When asked how ready they think they are for opening night, Nicolaci praised the production's director Jamey Strawn.
"Our director has a lot of faith in us and we as a cast have faith in each other and we're sure we're going to be ready for a great show opening night," Nicolaci said.
To make "Legally Blonde" a reality for the stage, set director Christopher Murphy has been working since the week before the start of the spring semester to ensure readiness for opening night. The long-time carpenter by profession has been with NKU's theatre department for six years.
"I grew up as a theatre brat," he said. "So my mom and dad both did this growing up."
Murphy explained that depending on the complexity of each set piece, the amount of time spent building it varies. Murphy added that "Legally Blonde" required a lot more pieces of scenery.
"Musicals tend to have more scenes," Murphy said, "and because this is a broadway musical, this has got even more scenes."
Since "Legally Blonde" has so many different scenes, many of the set pieces are used in two different ways. For example, the sorority bathroom set piece is also the judge's bench when turned around.
Along with an abundance of set pieces, the show also boasts a whopping estimate of 140 costumes for the cast. In fact, there are three co-designers working on the costumes because of how big the production is.
Costume director Jeff Shearer and his co-designers have received inspiration for the costumes from the book that the "Legally Blonde" movie was originally based off, along with the movie and Broadway version of the production. Shearer also added that each designer puts their own twist on the costumes to fit their own visions for certain pieces.
The production, which is larger than the allowing budget, caused Shearer and the co-designers to have to scale back on the costumes. Shearer made it clear, however; that with this production, that's hard to do.
"It's about Elle and her transformation and her realizing her own power," he said. "But she appears initially as shallow; all about clothes and all about hair, so you can't be putting her in stuff you got from Kmart, you know, she's gotta look good."
Elle's character has twelve costumes. "She hardly ever leaves the stage, and when she does, it's to change her clothes," Shearer added.
The hardest costume from the production to make is featured in the first scene. It's a collection of two dresses that Elle has to change out of and into onstage via a "secret" magic trick made possible by the costume designers.
Shearer has about ten students working on the costumes this semester. Most of them are working on fulfilling their BFA requirements in the costume shop. Students come in with all different skill levels, but all leave having improved on them, Shearer assured. As for some surprises for the show, Shearer mentions the costumes for Elle's sorority sisters. "We're doing something different with the Delta Nu's that they didn't do on Broadway."
For all of the surprises to be seen in NKU's theatre production of "Legally Blonde," tickets can be purchased at the Corbett Theatre box office. The production opens on Feb. 21 at 8 p.m. and runs through March 3.  More information for showtimes and ticket pricing can be found on the Fine Arts box office NKU webpage.
About the Contributors
Alyson Schoenung, Staff Writer
Alyson Schoenung, a junior journalism major from Cincinnati, also has a double minor in media informatics and marketing, also participated in NKU's Journalism...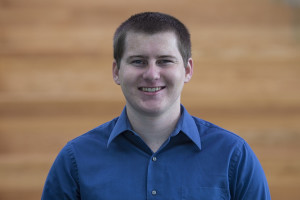 Kody Kahle, Web Editor
Kody Kahle is a senior at NKU studying computer information technology. As the web editor for The Northerner and Norse Code Radio, he maintains, updates...