Homecoming week kicked off Friday
On your mark, get set, go. Homecoming: Under the Big Top has begun. Friday evening the week of Homecoming festivities kicked off with the annual Nearly Naked Run.
Students and faculty gathered to brave 30-degree temperatures wearing nearly nothing, but it was all in the name of charity. Every runner paid 5 dollars to take the sprint around the Griffin Hall Oval, and every dime collected was donated to St. Jude's Children's Hospital.
No running talent or track experience required, just the bravery to bare almost everything in the chilled January air.
"I'm a jogger, not a runner," one participant yelled as she jogged past the spectators.
Divided into groups of girls and guys, some runners got extremely naked wearing merely short shorts while others got more inventive. Katy Perry cupcake bras, short-skirted Captain America costumes, and colorful tutus were sported by some of the freezing runners. Even one nearly naked tutu wearing Dachshund dog joined in the quick sprint.
While the runners wore almost nothing the large pack of spectators bundled up in layers to cheer on the daring runners.
"It's a fun way to kick off Homecoming week, naked men everywhere," said spectator Carolyn Hartman. "Plus the charity aspect makes it even better."
Afterward runners and onlookers were provided with food, drinks, and music to warm up to in the Student Union Ballroom. The Nearly Naked Run successfully set the exciting tone for the upcoming week of Homecoming festivities.
The next event is a Homecoming Talent Show set for Tuesday at 7 p.m. in the Student Union Ballroom.
About the Contributor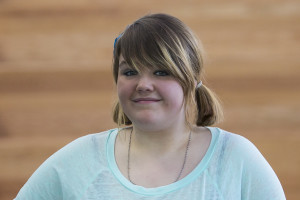 Nancy Curtis, Editor-in-Chief
Nancy is a senior pursuing a Bachelor's degree in journalism with a minor in popular culture. At The Northerner she formerly held the positions of staff...