Group brings culture to campus
Drums thumping and people dancing helped create an atmosphere that transported visitors to a different part of the world. This is not the Renaissance Fair, though. The Japanese Culture Festival provided the campus with a glimpse of what its like to visit the island nation.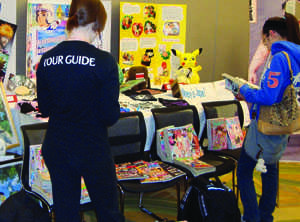 The festival, which occurred Nov. 17 in the Student Union, was hosted by the Parent Teacher Association of the Japanese Languages School of Greater Cincinnati. The festival had around four to five booths, each with different activities and items on display.
One table displayed various Japanese products featuring art; action figures; magazines and comic books. Some of these popular products, like Pokémon and Dragon Ball Z, were developed in Japan and eventually brought over to the U.S. and made into popular TV shows.
Participants could try on cultural clothing and learn to write Japanese. But the three main performances at the festival were kendo, koto and taiko.
Kendo, which translates to "way of the sword," is an ancient Japanese martial art that involves sword-fighting. Jim Atkins, the presenter and an instructor at the Cincinnati and Northern Kentucky Kendo Club, said that kendo consists of a set of protective armor and a bamboo sword, called a shinai.
"Kendo has been around in America for 60 to 80 years," Atkins said. "There are world championships every three years here." Atkins said that although it has been in the U.S. for a long time, it is growing more popular in Europe.
Koto and taiko were both musical performances. Koto is the national instrument of Japan, made out of kiri wood, and it looked similar to a small harp. When played, it sounded like music heard in samurai films.
Taiko, meaning "drum," also presented. Taiko is a musical art form that uses many different drums to create an ensemble called taiko drumming. Performances can last between 5 and 25 minutes and typically follow a jo-ha-kyū, which is a rapid and urgent structure, which means the tempo increases significantly towards the grand finale.
Aside from the activities, the festival also featured a bake and craft sale to raise money for
the disaster relief fund for the victims the earthquake that struck Japan.