APB brings students together to bust pumpkins as a community
Northern Kentucky University's Activities Programming Board held their annual Pumpkin Bust in the West Oval located in front of Griffin Hall Tuesday, Oct. 11. Multiple student organizations gathered to participate in the event.
Overall winner for the Pumpkin Bust was Freshman Service Leadership Committee; Theta Phi Alpha came in second place and Alpha Tau Omega in third.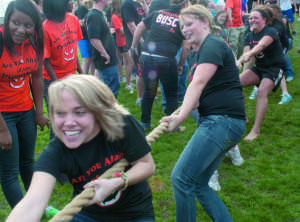 According to Josh Gruenke, program coordinator for NKU, the winner for each division, which includes men's, women's and co-ed, was determined by points earned in each event. Events included a costume contest, pie eating contest, tug-of-war, greasy pumpkin and pumpkin toss.
Teams of eight were able to participate in the event for a $25 fee per team. APB is a non-profit student organization therefore the fee covered costs for items such as t-shirts and pies.
"The purpose [of Pumpkin Bust] is to provide programming for everyone on campus," said Gruenke.
APB holds events throughout the year that cover an array of academia and fun. They have a lot of involvement in Welcome Week and homecoming week. Gruenke alluded to the fact that pictures taken at Pumpkin Bust are great promotional content for NKU's website.
Although all events were interesting, bystanders seemed to take most pictures during the pie-eating contest. Pumpkin pie-eating participants had pie up their noses, in their eyes and in their hair but they mastered the trade.
"Eat that pumpkin, own that pie," an onlooker yelled.
Rex Trogden, Sigma Phi Epsilon's representation for the contest seemed pumped to win. "Is it gone, is it all gone," he said as he wiped pie off his face.
An unknown bystander shouted, "those pies aren't even big, that's like a portion size for me," but the contestants faces didn't allude the same thought.
The next event will be comedian Ron Funches in the Student Union Multipurpose room on Oct. 20 at 7 pm. This is an APB sponsored event.