Trash turned into treasure
Take it or Leave it is a new program at Northern Kentucky University that allows students to take and leave items — for free.
"We're trying to keep useful things out of the trash and into student's hands," said Jane Goode, coordinator and space planner for NKU. "With the cost of education today, it's amazing. And this is one little way that we can lower the cost for people attending school."
The Take it or Leave it booth is set up on campus twice a month, most frequently at the Student Union and Callahan Hall. Students are encouraged to leave items that are not being used so that other students may get use out of them. The take it part is for students to pick up items that have been recycled, rather than buying them new.
"We are trying to be as earth friendly as possible" said Emily Spinks, a student.
Goode and Spinks, along with others, coordinate with the recycling team to salvage more items. They collect items that have been rescued from the recycling containers on campus and offer them to the students who are looking for useful and free items through this program.
"The idea is to circulate items, to reuse them and to keep them out of the landfills" Spinks said.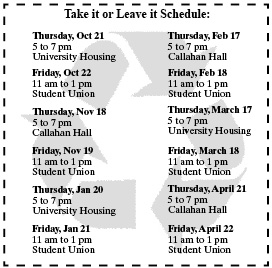 The program is designed for, but not limited to, items that are school or office supply related. There are some restrictions concerning what can be left. Items that may not be given include clothing and furniture. This is to prevent bed bugs.

Goode also recommends not bringing items that cannot be taken to and from by a single person. "It's people power taking stuff and people power leaving stuff," Goode said.

The next Take it or Leave it event will be Thursday, Oct. 21 in University Housing from 5 p.m. – 7 p.m. and again Friday, Oct. 22 in the Student Union from 11 a.m. – 1 p.m. For more information about Take it or Leave it, visit www.green.nku.edu.

Story by Tabitha Peyton