Local musicians forge into "uncharted territory"
Performing at a historic music venue like the Fillmore Theater in San Francisco is a lofty goal for any rock musician, past or present. With an impressive collection of vintage posters from legendary shows of the past, one can't help but feel as though they are part of music history. And for one group of Cincinnati musicians, that momentous opportunity became a highlight of their career.
Playing a style akin to classic hard rock but fused with psychedelic sounds from the late 60s, Electric Citizen formed in the spring of 2013 and has covered a lot of ground within a short period of time. While their bassist, Nick Vogelpohl, stays active with frequent tours and numerous festivals appearances, he stays equally engaged as a student at NKU.
Vogelpohl, 29, is an integrated studies major with a minor in marketing. He has been active within the local music scene for over a decade, along with a close friend, drummer Nate Wagner. "I'd been playing in bands since I was probably 18 or 19," Vogelpohl said. "Our drummer – I've played with him in nearly every band I've been in."
While Vogelpohl has a wealth of personal playing experience, Electric Citizen has taken him the furthest he's ever gone as a professional musician. His band mates have followed a parallel path and that eventually landed the seasoned veterans in the same practice space.
"This is a group of people that we've known each other for ten years or longer," Vogelpohl said. "We had a pretty clear goal of what we wanted to do." That strong sense of direction paid off well for the band and has allowed them to the hit the ground running from the very beginning.
Developing Sounds and Public Reception
After five months of writing and rehearsing together, Electric Citizen played their first show in the basement of a local musician, who plays in the prominent Cincinnati group Foxy Shazam. Moving forward from that first gig, the band was soon playing shows across the country.
"We put close to 40,000 miles on our van," Vogelpohl remembered. "We had some really awesome touring experiences that got us all over the U.S. It was definitely a good journey." The band's success was equally shared by their front woman, lead singer Laura Dolan.
While Vogelpohl has chosen to continue his education amidst a busy schedule with the band, Dolan has also encountered a significant change in her daily routine due to the success of the band – she's been able to get by without the aid of a full-time job.
"That's been a big change for me but it's probably also one of the best things I've ever done" Dolan stated cheerily. "It showed me that I could go ahead and do that and I'd be just fine without the security of a full-time job. I think everybody should do what they love."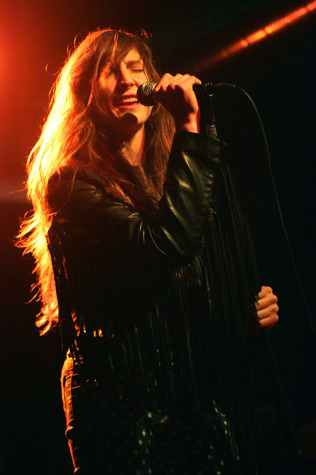 The small-town vibe has also played a role in Dolan's mind, especially when it comes to groups trying to get out there and make a name for themselves. "I personally feel really proud for anyone who does anything out of here because it's something I've been a part of for a long time," Dolan said. "It pushes us to be better musicians; I think that's kind of the roots that grow a better scene and makes us all work harder."
Media Exposure, Broader Audiences
Upon the completion of another milestone for the group, releasing a record on Los Angeles-based music label Riding Easy Records, the band was getting noticeable media attention from the alternative music press. One of those sources was the popular Vice.com web series, "Noisey."
Dolan described the experience as an "honor," and the band has developed a strategic approach to getting their music out there. "As cluttered as the internet is, it's also enabling this awesome movement of like minds that are spread out across the world but can come together and enjoy a certain style of music," Dolan said.
Vogelpohl maintained that an artist still has to have a solid substance underneath all the presentation for anything to work, but said it's equally important to book solid shows and have a frequent tour schedule. "Touring is the biggest thing for a younger band," he said. "If you're playing the same club in town over and over, you got to get out there and sacrifice at some point."
That point has come and is still coming for the group, allowing the Cincinnati natives to venture into previously untouched cities. During a West coast tour supporting Australian rockers Wolfmother, Electric Citizen unexpectedly came upon a momentous night at the Fillmore in San Francisco.
"We had never ventured out West on our own," Vogelpohl said. "That was all uncharted territory for the whole band." And the fact that it was Vogelpohl himself on the stage was especially cathartic.
"It's one thing from a fan's perspective to say I went to a sold out show at the Fillmore," he said. "But it's another thing to say that I played the Fillmore for my first time in San Francisco and it sold out."
An Achievement in Context and Future Plans
That same night also allowed Vogelpohl a moment of reflection on the context of his band's music. As he talked with the lead singer of Wolfmother after the show, the two musicians felt that their particular style was "carrying on the torch," and has had a noticeable appreciation from audiences.
"I think people are hungry for this kind of rock n' roll," Vogelpohl said. "The commercialized stuff and the over-produced music on the radio isn't cutting it for a lot of people anymore; they want good live rock n' roll."
On the other side of the country, the group was recently invited to play a brand-new Uninvited Fest music festival in Brooklyn. It's the third show in Brooklyn for the band and they shared the stage with many friends and familiar faces, but their next move is stretching out even further: they'll be playing Roadburn Festival in Tilburg, Netherlands along with several other shows around Europe.
With an upcoming East coast tour in the fall and their plans for Europe in place, the band has plenty of things coming down the pipeline. Where they go afterward is still to be determined, but the present is promising for these Cincinnati rockers. "I think it's cool that people are fighting for that stuff and shining through in a city that's known for being 10 years behind," Dolan stated. "We've got something to prove."
To check out the band's tour schedule this fall, click here.