Pop-punk band seizes the day with giant ambitions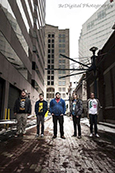 If Friday Giants have a favorite Latin motto, it's probably "carpe diem." Their recently released first single, "Live Your Life", available through their Facebook page, speaks of motivation and empowerment to its listener, and the pop-punk band's members champion those qualities as main inspirations.
"It's really just about when other people get you down and tell you that you're not worth it, that you have it inside you, and you can prove yourself with whatever you want to do," said Friday Giants bassist James Morelock, who penned the lyrics to the song.
Lead singer Gavin Bonar, bassist Morelock and drummer Chuck Ralenkotter are NKU students and three of the five members of Friday Giants. All three attend Northern Kentucky University.
Originally forming as a four-piece last September, featuring current members Morelock, Ralenkotter, and guitarist Gabriel Johnson, Friday Giants now consists of those three members,  as well as Bonar and guitarist Brad Martin. Former lead singer Kyle Rhodes recently left the band.
While they might not all be in the same grade level or take the same classes, the experience together in Friday Giants has fostered a strong bond among the bandmates. Much of the admiration is for strong musical expertise amongst the members.
"With all the members that we have and all their backgrounds, the amount of musical talent and the knowledge of all these different genres that we can now pull together, we're not stuck to playing just a generic pop-punk sound, or a generic hardcore sound," said Morelock, a freshman electronic media and broadcasting major.
Instead, Friday Giants takes inspiration from both hardcore music and pop-punk, as if they are channeling two ends of the musical spectrum.
"I'd say people that we sort of sound like, it ranges from anything on the heavier side like A Day to Remember to the lighter side like New Found Glory," said Ralenkotter, a freshman electronics engineering technology major.
Rhodes summarizes their genre of "pop-punk hardcore" as one that people can listen to under excited and agitated circumstances alike.
"It's very poppy and people can jump to it, but then we also have our heavy moments where people's heads will bang and their spines will break," said Rhodes, a senior electronic media and broadcasting major.
Outside of Friday Giants, the band-members have experience with a variety of genres and styles. Morelock gained experience playing punk and blues on guitar before switching over to bass. Ralenkotter has many years experience playing metal drums.
"Live Your Life" was released on January 29 via the band's Facebook page and they have more plans in the future. This May they will be performing at the Thompson House in Newport, Ky. and releasing their debut EP. They also have hopes of playing a warm-up show in the Multipurpose Room of the NKU student union.
Beyond that, the members of Friday Giants see the band as not a hobby, but something they hope to develop and nurture for as long as they possibly can. A spot on the Vans Warped Tour and a Cincinnati Entertainment Award, a coveted prize for any Cincinnati area musician, are two things that the band hope to receive. The number one thing on their mind seems to be something that is decidedly less physical.
"In five years, I want to be able to go the entire other coast of the United States, and I want to hand the mic during any part of the song, and I want everybody out there to just know our words and just feel the positivity," said Morelock. "And hopefully it empowers them to do exactly what we're deciding to do now and just go for it. You've got one life to live."
Friday Giants will be performing at the String Theory CD Release Show on Saturday, March 1 at Tickets Sport Cafe at 6 PM, along with five other bands. Admission is $8.