A look into the variety of spring theatre productions
The NKU spring theatre line-up will share the power of storytelling with the audience as well as affirm that we all have a desire to be entertained.
Michael Hatton, assistant theatre department chair, said the whole season shows "the variety of theatre that exists" and there is something for everyone.
"There's a way for everyone to connect and to come together for a great evening," Hatton said. "They'll have a great time at the theatre, see some really amazing young talent, and get to come back and not be afraid of having the theatre as a part of their lives."
Ken Jones, theatre department chair, said they have a four-year rotation so that any student in their four-year career at NKU will have the chance to experience a variety of theatre.
Jones said any time they come in, any student will have the opportunity to see a Greek or Roman play, two Shakespeare plays, a 20th century modernism play, an Elizabethan play, a restoration play, and a variety of musicals from Rodgers & Hammerstein, Oldie Goldie, 60s musicals and rock musicals.
"We try to build a season that will not only be entertaining, but educational," Jones said.
The three shows in the spring line-up are Arabian Nights, A…my name is Alice, and Monty Python's Spamalot.
Arabian Nights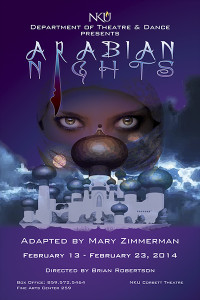 This classic middle-eastern fable is about a young women, Scheherazade, who uses stories to delay her husband Shahryar, the sultan, from killing her. After 1,001 nights of stories, will she be able to change the sultan's mind, and hopefully, his heart as well?
Director Brian Robertson said his favorite part of the play will be if they can convince the audience that Scheherazade can "tame the sultan through storytelling" to save her own life.
"Stories have huge power," Robertson said. "Each story puts [Shahryar] in a thoughtful place that prepares him for the next story."
Robertson said he is impressed with the "depth of student involvement in the theatre department," and that even though his name may be on the play as a professor, "the pieces are built by the students."
"These people are the engines and ultimately, they make this all work," Robertson said. "It's nothing I do. It's what they do and they do it again and again!"
Rehearsals for Arabian Nights are in full swing and the show will open on Feb. 20, in the Corbett Theatre.
A…My Name is Alice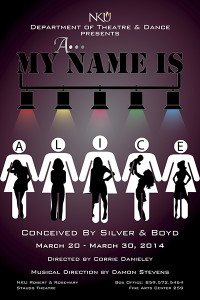 The second show presented by NKU's Theatre and Dance Department will be A…My Name is Alice. A…My Name is Alice is a musical revue originally conceived by Joan Micklin Silver and Julianne Boyd, featuring roughly 20 songs and sketches composed by a variety of composers and writers. Each sketch tells the story of different women.
"It's a celebration of what it means to be a woman; their paradoxes, their heart, everything," said Corrie Danieley, director of NKU's A…My Name is Alice production.
Danieley is new to NKU this semester so the show was chosen before she arrived, but she is excited to be directing the show. Danieley believes that the show is quite relevant now and in some ways was always relevant.
"Women's issues are a hot topic, we're still always moving forward," Danieley said.
So far, Danieley has assembled her cast of seven "strong and beautiful female performers" and has been working with the production team for months on sketches and renderings of sets. They will begin rehearsal on Feb. 3.
"The show's just a good time and you feel good at the end," Danieley said. "It reminds you how strong women are."
Danieley believes that people will enjoy the show because it's not your typical play. It doesn't follow one singular storyline, but it is a compilation of songs and stories that Danieley likens to that of Saturday Night Live sketches.
"There are lots of vulnerable moments, but also people will be laughing with us," Danieley said.
A…My Name is Alice will run in the Robert and Rosemary Stauss Theatre from March 20-30.
Spamalot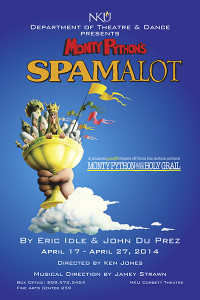 The final show in the spring line-up will be Monty Python's Spamalot, which is the stage version of the classic film comedy, Monty Python and the Holy Grail. It retells the legend of King Arthur and his knights.
Director Ken Jones said Spamalot is a hilarious show to bring to the stage.
"It's huge and hilarious and we're one of the first people in this region to get the rights to that," Jones said.
Hatton said Spamalot is the kind of show to come to when you want to have a really good time.
"Everyone who comes will leave the theatre humming and singing the songs as well as laughing so it's the perfect show for having a great time, forgetting your cares and your worries, tapping your feet, humming along and just really enjoying yourself," Hatton said.
Hatton said it's fun for both theatre newbies as well as seasoned theatre goers and "there's a little something for everyone."
Spamalot will open April 17 in the Corbett Theatre.