Talent show winners belted popular Young the Giant
EDITED: The original article spelled first place winner Brian Murray incorrectly.
Tuesday night students gathered to enjoy performances from talented classmates in the Homecoming Talent Show sponsored by the Activities Programming Board.
The acts took to the stage to impress the panel of judges which included Director of University Housing Arnie Slaughter and Interim Assistnat Vice President of Student Affairs Kim Turner.
Seven of the acts were varying musical performances of both soloists and duos. Some artists reinvented known songs such as "Titanium," originally by David Guetta and Sia, while others bravely took to the stage with original works. Including one performers moving dedication to his childhood best friend who had passed, and a performance by I$e, the founder of NKU's record label, Climb Time.
The only act that wasn't a musical performance was a very dramatic and moving spoken word performance by NKU Rocks President Christian Johnson.
Every performer gave it their all on the stage, and the evening concluded with a booming performance from last year's winner Maddie Clark.
After her performance, the judges votes were in. In third place came Erin Edwards and Morgan Thomas who performed Lady Gaga's "Poker Face." Second place was granted to Gavin Bonar and Matt Wallin for the performance of an original song. First place winner went to Kyle Taylor and Brian Murray for their inventive performance of "Cough Syrup" by Young the Giant. Each winner was awarded with money to their All Card; $25 to third place, $50 to second and $100 to the grand prize winners.
All in all the performances impressed, and kept up the fun spirit of the week of Homecoming events.
Tonight is the Homecoming Gala at the Madison Theater in Covington, Ky. Tomorrow evening, the Norse men's basketball team will take on Mercer for the homecoming game at 7 p.m. Game activities include a helmet decorating contest, foam sword giveaway, and the homecoming prince and princess will be announced.
For more information about the final homecoming events, visit homecoming.nku.edu.
About the Contributor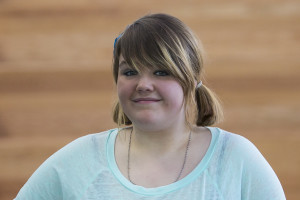 Nancy Curtis, Editor-in-Chief
Nancy is a senior pursuing a Bachelor's degree in journalism with a minor in popular culture. At The Northerner she formerly held the positions of staff...