Rod Stewart once sang that "every picture tells a story." Stewart's lyrics sum up photographer Troy Colby's main objective: tell stories with images. Colby's exhibits ("Our Falling World," "The Dream of Flight" and "Mystical Portraits") opened to the public Nov. 25 at RoHo Photo Gallery in Cincinnati.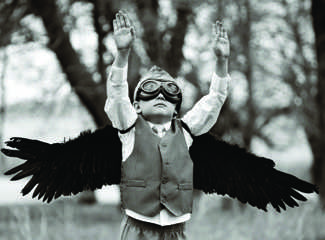 Located at 209 Woodward Street in Over the Rhine, RoHo is a three-story loft gallery, featuring photos submitted from as close to home as Cincinnati and as far away as Australia.
"People send their photographs from all over the world," said gallery director and Northern Kentucky University communication studies professor Michael Skaggs.
RoHo, an abbreviation for "row house" and a spin-off of New York's SoHo district, originally began in 1984 as RoHo Productions. Not yet a photographer at the time, Skaggs produced live jazz concerts in his loft, at the Cincinnati Zoo and at the Cincinnati Art Museum.
In 1986, Skaggs moved to New York and became a photographer. Although he exhibited his art while living in New York and New Jersey, Skaggs' dream of opening a gallery would not be realized until he returned to Cincinnati in 2000.
Skaggs opened RoHo in 2000 in downtown Cincinnati. The gallery has moved three times since then and has been in its current location since 2010. For the past three years, Skaggs and his gallery partner, William Spangler, have held themed contests wherein photographers pay to submit their images and are then judged by Skaggs, Spangler and occasionally guest jurors. The winning photographs are exhibited in the gallery, and the top three photographers win prizes of $1,000, $500, and $250.
The current exhibition, featuring Colby's work, is the third of four solo exhibitions. Colby shoots digitally, but tries to make his images look like old film photos. All but one are in either black and white or sepia.
"People attach emotions to color … but black and white strips the images down to their formal elements," Colby said.
Colby said he shoots in color first, then converts them to black and white or sepia tone in Adobe Photoshop.
"I think it was right to do it in the colors he did it in," said NKU freshman accounting major Zachary Wiggins.
Colby's photography is staged; however, it is rife with symbolism that would not present itself naturally. "The Dream of Flight," for example, conveys the struggle of following dreams through symbols that include birds and rope, which represent freedom and imprisonment respectively.
Many of Colby's photographs also feature his sons as the subjects, which contributes to the symbolism. According to Colby, "Our Falling World" started out as a concept of pretty dresses contrasted with images of a broken world; but when Japan was hit by earthquakes and a tsunami, the concept changed. The final product is an exhibit featuring photos that include desolate backdrops and Colby's sons wearing gas masks.
Some viewers, like Skaggs' daughter Tracy Hemmerle, found the images disturbing. According to Colby, though, the children represent innocence and the future of the falling world.
Columbus resident Sara Gentry, who has visited RoHo on two other occasions, said she has not seen images of children in previous exhibitions at the gallery.
"In the past, the photos have been of things like raindrops," Gentry said. "There is clearly a strong meaning behind these images."
Colby's exhibits will be on display at RoHo until February 2012. The gallery is open Saturdays from noon to 5 p.m. and by appointment. For more information or to view photos from the exhibit, visit the website at http://www.rohophoto.com.