Empower
Northern Kentucky University Director of Jazz Studies William Hogg has a vision to empower at-risk youths. While Hogg's vision is clear, it is proving to be a challenge to keep it alive.
EMPOWER is a non-profit program focused on "return[ing] the roots of jazz and blues to urban areas," according to Hogg. The Jazz program is funded entirely by money collected from fundraisers like the annual Blues Festival. Hogg and Department of Music Chair Kurt Sander created an account with Northern Kentucky University Foundation, Inc. for the program funds.
The money raised by Hogg and NKU students are intended to be used to provide musical instruments and instruction to urban high school students, according to Hogg. NKU is currently partnered with Dayton High School and Holmes High School to provide these resources.
However, NKU students have not provided any musical instruction to students at either high school this school year. Hogg said the foundation will not allow student instructors from NKU to be paid out of the account.
According to NKU Foundation Executive Director Karen Kruer Zerhusen, she was not aware of an issue with the EMPOWER program.
"The problem we've been having, paying students in general, is the amount of paperwork and time that goes into paying students for work they've done off campus," said Department of Music Coordinator Allison Schmidt.
Schmidt said that she was not aware that this problem affected EMPOWER, specifically.
According to Hogg, Schmidt told him that it took three months to compensate an NKU student for musical instruction provided last school year because of red tape.
"I'm hoping it gets worked out," said Dayton High School band director Bill Klopp. "We're missing out on these opportunities … to improve musicianship."
Klopp said that the program exposes students to art while teaching life lessons in self-discipline and work ethic. According to Klopp students at Dayton High School are not in a high socioeconomic demographic, and the school does not have money to pay professional personnel for private musical instruction.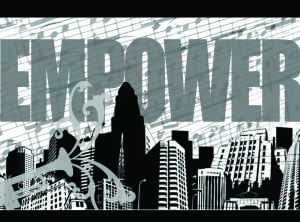 Hogg founded EMPOWER with the help of promoter Laura Gentry in 2003. Part of Hogg's inspiration came from a student who played clarinet. The young woman was a talented musician, according to Hogg. However, rather than continuing to play music, the young woman wanted to be a dancer in rap music videos — a culture which, according to Hogg, is comparable to prostitution, with girls getting "passed around like joints."
EMPOWER began as a partnership between NKU and Campbell Lodge Boys' Home. The program continued until 2005 when Hogg left the university and went to Morocco to work with youths there.
Hogg returned to NKU three years later and has since resumed the EMPOWER program.
The partnership between NKU and Dayton and Holmes high schools began in March 2011. At the time, student instructors were coming to Dayton High School twice weekly, according to Klopp. While fundraising continues for the program, musical instruction is currently still on hiatus.