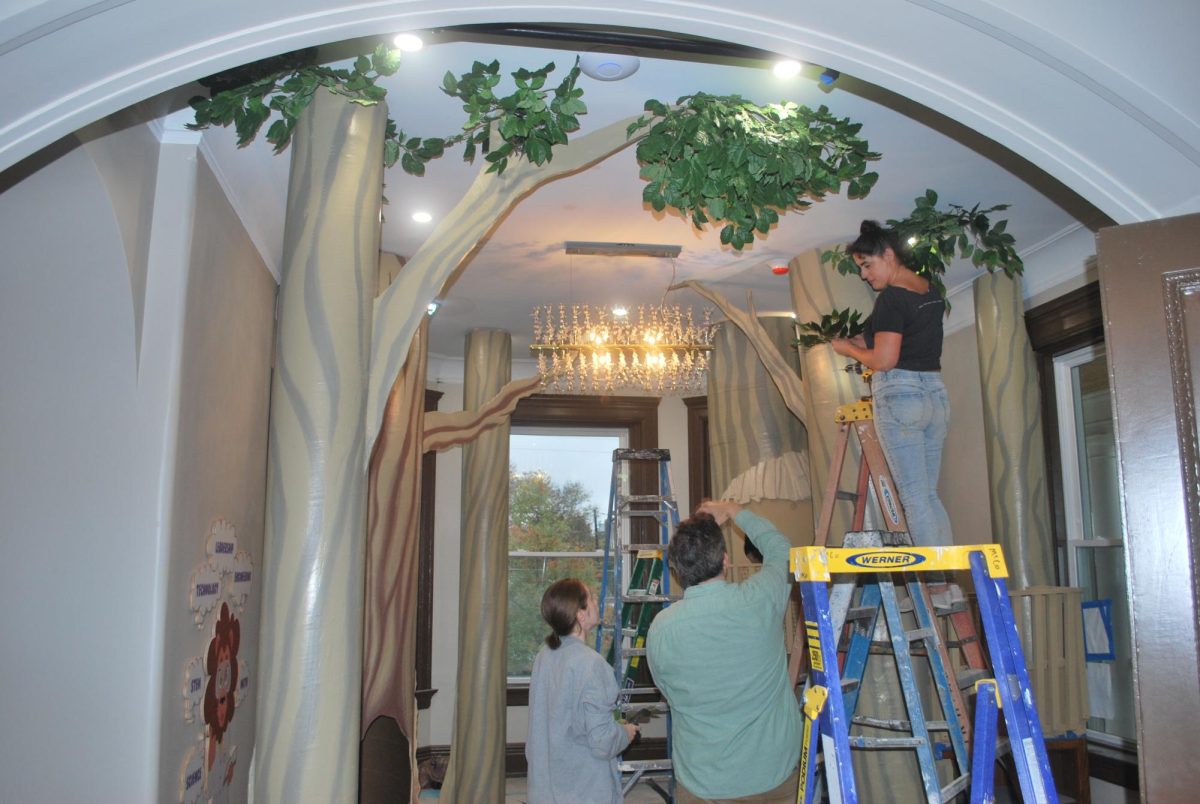 When Brad McCombs and his students gathered in the historic Holloway House in Cincinnati on a gloomy afternoon, the forest-inspired play area they were building was beginning to truly feel like its own world, separate from the wet and chilly weather outdoors.
McCombs is NKU's Art & Design Program head and a multidisciplinary artist, who led a project to install a play area and mural in Rosemary's Babies Company's new Holloway House and Resource Center devoted to housing teen mothers struggling with homelessness. 
In the middle of the COVID-19 pandemic in 2020, the organization learned that 35% of the parents they were supporting were homeless, according to Rosemary Oglesby-Henry, founder and CEO of Rosemary's Babies Co. The organization focuses on supporting teen parents through resources and education, but housing wasn't offered at the time.
This apparent gap in resources jolted Oglesby-Henry to action. "Sometimes when an opportunity presents itself in a way where it's like, 'well why don't you do it,' you kind of turn the finger on yourself and say, 'well why don't you do it?'" reflected Oglesby-Henry. "If not me then who?"
Rosemary's Babies Co. acquired the property in Avondale, Ohio in 2022 and has been renovating it to house seven families in need. The home sat vacant for over a decade prior to the organization's purchase and was stabilized by the Cincinnati Port Authority, meaning it was rehabbed to meet market standards.
The house will feature a media and library room and a STEM lab, along with the children's play and learning area designed by McCombs. 
Oglesby-Henry envisioned transforming one of the house's rooms into a forest-inspired play area where children can interact and read while their parents utilize resources in the neighboring rooms. She commissioned McCombs to design the space, whose vision has come into fruition. 
Using large tubes that span from the floor to the ceiling coated with papier-mâché and paint to mimic the gnarls of tree bark, the tree models tower over the room's occupants like stewards of the space. Small crawl spaces are carved into the tubes so children can climb in and relax with a book pulled from the bookshelves built into installation. 
A treehouse-like balcony forms a ring around one of the trees, which extends inside of the replica's trunk and creates a second level for children to explore. 
Earth tones color the room and are applied with sinuous brush strokes that make the space feel natural. An ornate light fixture dangles above the room and illuminates the precise qualities of the art while adding to the space's graceful spirit. 
The installation is coined "Levi's Learning Area," a riff off of Rosemary's Babies Co. mascot who is meant to be an educational role model and encourages children to learn STEM. Educational elements are tied into the play area intentionally by making books accessible within the play space, but a less obvious detail is the accuracy with respect to tree species. The grove of tree models represent beech and oak trees, and the synthetic leaves garnishing the branches emulate the true morphology of these species, said McCombs. 
"There's a lot of opportunities when it comes to environmental sciences and environmental studies, so in a way we're bringing nature in," said McCombs.
Keeping with the forest design motifs, McCombs painted a mural on a wall just outside of the play area depicting a tree with leaves that acknowledge the organization's donors, he said.
McCombs tackled this project with a group of four students, who were able to earn a wage for their involvement thanks to the College of Arts and Sciences-sponsored Student Success Impact Mini Grant, which McCombs applied for. 
One of the helping students, Rachel Paxitzis, stood on top of a ladder, scrupulously drilling holes into one of the tree's upper segments to jostle in flourishes of synthetic leaves. "That's my kid," she exclaimed, pointing to the child sitting inconspicuously inside the second-level of the treehouse and playing on a tablet. Even before its completion, the installation seemed well on its way to fulfilling its purpose. 
Paxitzis, a BFA student, aspires to teach art at a college level and specialize in community art. She jumped at the opportunity to help out at the Holloway House when McCombs presented it to her class. Throughout the experience she has witnessed her professor work on a commission, apply for a grant and carry out the project from paper to model, all with the purpose of using art to make a difference. 
"Seeing it through to fruition, to the very end from start to finish. So for me, that was kind of invaluable," said Paxitzis. 
The doors to the Holloway House and Resource Center are expected to be open in spring of 2024. Speaking with The Northerner as the project was nearing its last touches, Oglesby-Henry was enthusiastic about the prospect of a finished product. "I could picture kids going in there in a space where, yes, your mom is young and she's here needing help. But wow, look at that environment," said the CEO.