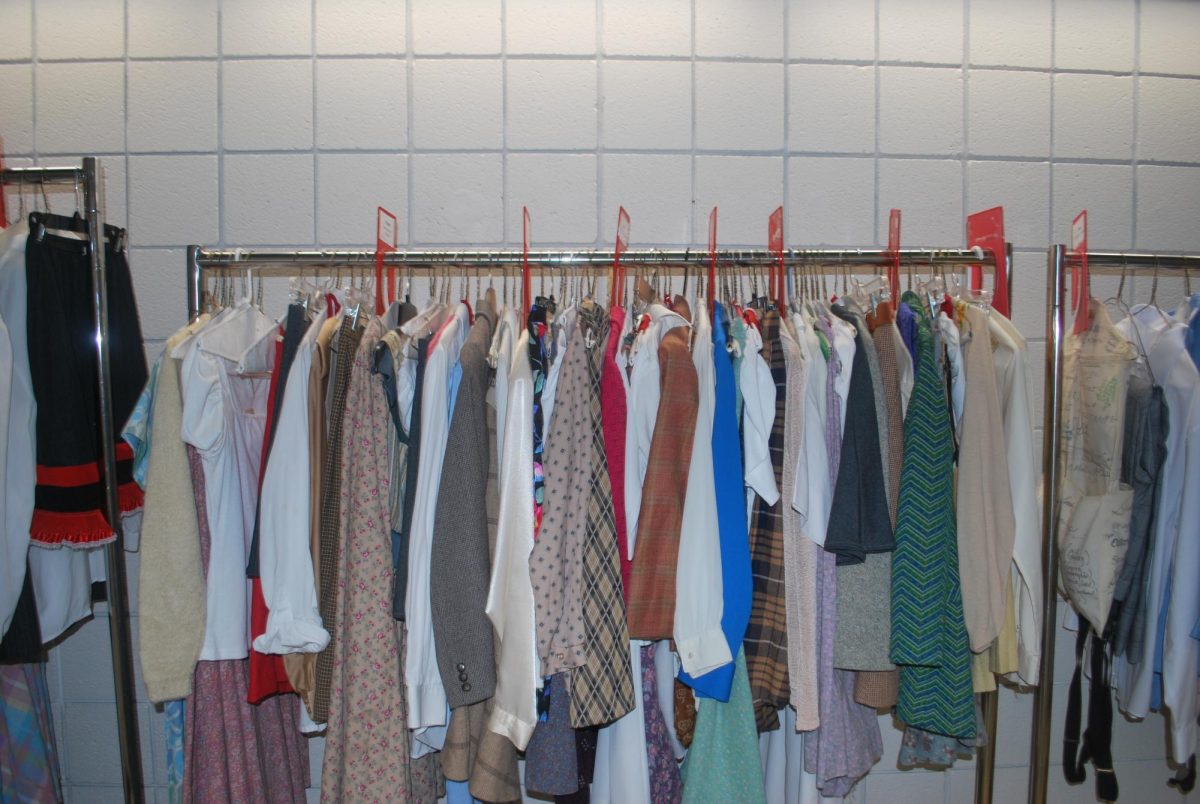 The School of the Arts' students and faculty are designing costumes to fight the patriarchy in "9 to 5: The Musical."
The process is long, collaborative and full of hard work. Their work began in April with the director's concept, then research, basic designs and building bigger designs. Inspired by the fashion of the late 70s and early 80s, they wanted to hold true to what the movie represents while also keeping in mind the movement of the musical during the design phase. 
The costumes are reflective of the stuffy workplace environment of the time. The ensemble is dressed in beiges, grays and neutrals. "The whole idea of the office having no personality, that it has stripped you of personality. You are there—kind of like a machine—to do this, come in, don't bring yourself into this space," said Cat Schmeal, costume shop manager.
Meanwhile, the three leading ladies wear colors to represent their rebellion against the patriarchal workplace: Judy wears pinks and pastels, Doralee wears blues and greens, and Violet wears navy blues and blacks. 
There is a lot of movement and dancing in the musical. The designers must be aware when a character will do a high kick or a cartwheel. The lighting designer needs to know what colors are going on stage versus the theatrical lighting hitting them. 
Missy White, hair and makeup designer, said she knew that they had to have a blonde wig for Doralee, the role that Dolly Parton plays in the movie. The three leading ladies and their friendship is one of the most beloved parts of the story, said White.
Three notable women, Dolly Parton, Lily Tomlin and Jane Fonda, play the leading roles in the movie, so it was essential to keep the likeness of the roles without making it too costumey or comical, said Schmeal. The designers wanted to embody the energy that the icons have without trying to be them. 
During fittings, the designers finally get to see it all start to come together. "It's a wonder whenever you see wigs go on people for the first time, how much it changes who they are," said Eden Stempa, wig master. 
It is extremely important to make sure you don't miss the little things that will come back to bite you, assistant costume designer Annie Yuan said. "Oh, you forgot to pull pants for this costume and now we're in the first dress and that person doesn't have pants," said Yuan. 
Telling the story of three women and their sexist, egotistical boss, "9 to 5: The Musical" opens on Nov. 3 and runs through Nov. 11 at The Carnegie in Covington, KY. When discussing the show's opening, White said, "Handing off what you've been dreaming and building, to me, are the best parts… getting to share it with the audience and seeing your designs and your ideas come together with everyone else's."