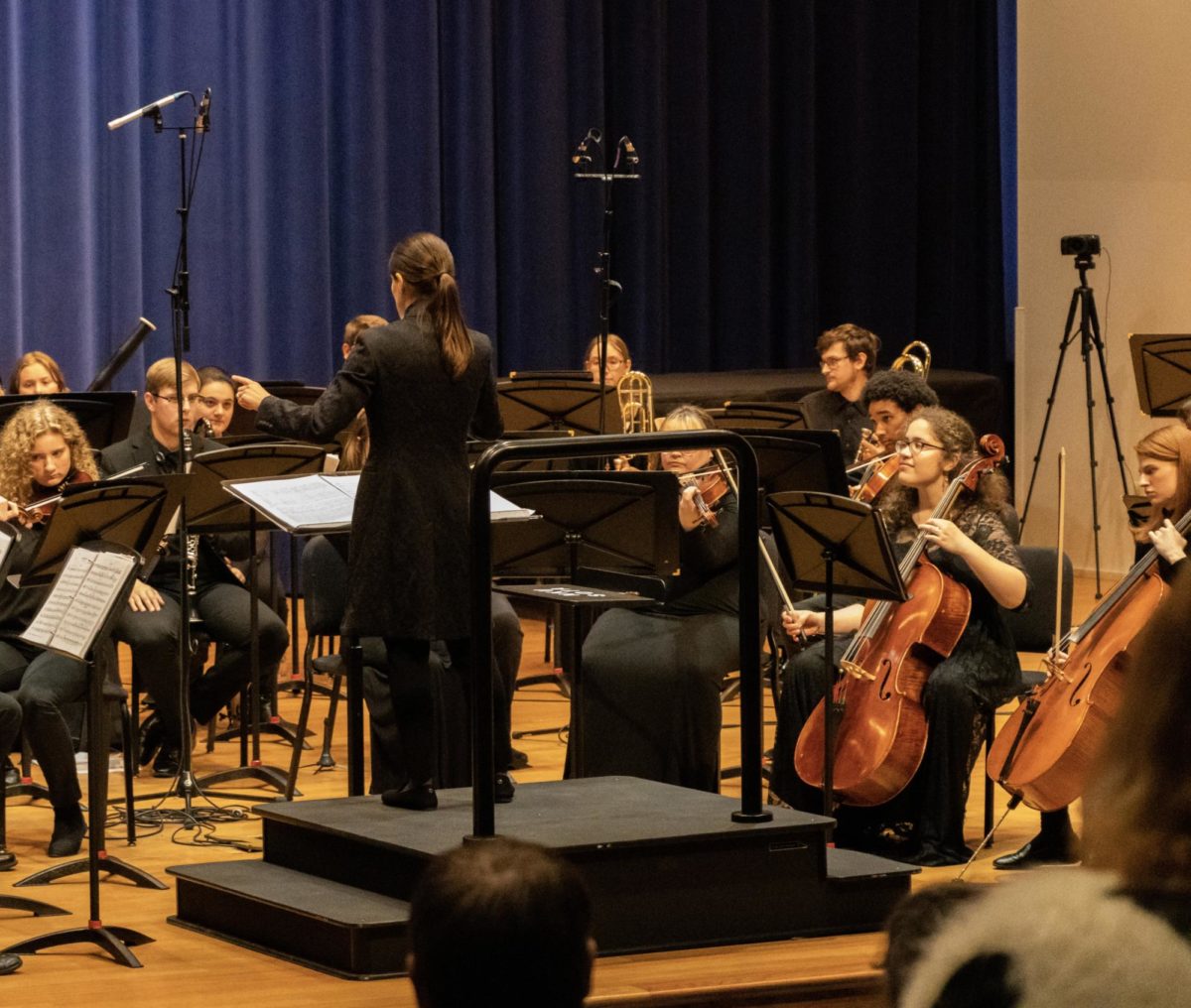 Not all concerts have to be performed traditionally. The Northern Kentucky University Philharmonic Orchestra's sensory-friendly concert broke down the barriers of traditional concerts. Students and community members — young and old — tapped, clapped, swayed and laughed at the Thursday night performance.
"The traditional concert format is not always conducive to everyone all the time, and music is for everyone," said Amy Gillingham Culligan, the ensemble's conductor and string area coordinator in the music department.
Attendees were able to enjoy the concert with elements that create a more friendly environment, like getting rid of stuffy dress codes, adding a quiet zone, keeping the audience lighting on and allowing the freedom to move and make noises during the show.
"I looked at a lot of major performance venues, places in LA and New York, and how they were doing sensory-friendly concerts. I engaged some colleges. Particularly, there is a presentation from a professor at Ball State University," said Culligan.
Patrons weren't the only ones who needed some preparations. Students performing in the concert also learned what a sensory-friendly event was.
"Not only is this my first time seeing a sensory-friendly concert or being in, it's also my first time ever hearing of a sensory-friendly concert. I didn't think those existed. I always thought that concerts were set in stone, it's this or nothing," stated Darius Briscoe, sophomore and member of Philharmonic Orchestra.
Before the event, guests were informed about what to expect when they entered the concert hall and what music would be played that night. They were also reassured that the event was a judgment-free zone and that everyone was welcome.
The invitation included a social story called "What to Expect," so guests could prepare for the concert. The social story was written in first-person and included photos so that attendees were reassured about the social expectations.
"I teach a 9-year-old… and man, I feel so much better about inviting him to this concert knowing that it's a lot. Especially because he hasn't really been to a concert before, so it's like outlined a lot more clearly for the audience. There are more expectations of 'this is how it works: you clap here, you might expect noises here,'" said Anna Stephens, a sophomore member of the Philharmonic Orchestra.
Most classical music concerts have rigid standards, but the Philharmonic Orchestra contradicts this norm to make the experience more inclusive. Even some students in the orchestra had faced issues in meeting strict concert standards. 
"It's kind of a judgment free zone. I've been to concerts before where I'm like, 'oh I'm not dressed up enough' or 'I need to make a noise but I can't.' I think it is really important to have classical music in a really judgment free zone. It makes it so much more accessible," Stephens said.
The program showcased pieces such as The Sorcerer's Apprentice by Paul Dukas, Danse Macabre by Camille Saint-Saëns and more. The event also included students in the orchestra coming up and talking to the audience to give them an overview on the music.
"It's a real pleasure to be able to put it on. I think I have a real interest in making music that is accessible for greater audiences. And whether the people [who] attend the concert are neurodivergent or would need a sensory friendly environment, I think there's a lot of people that really appreciate the environment, and the relaxed environment," said Culligan.