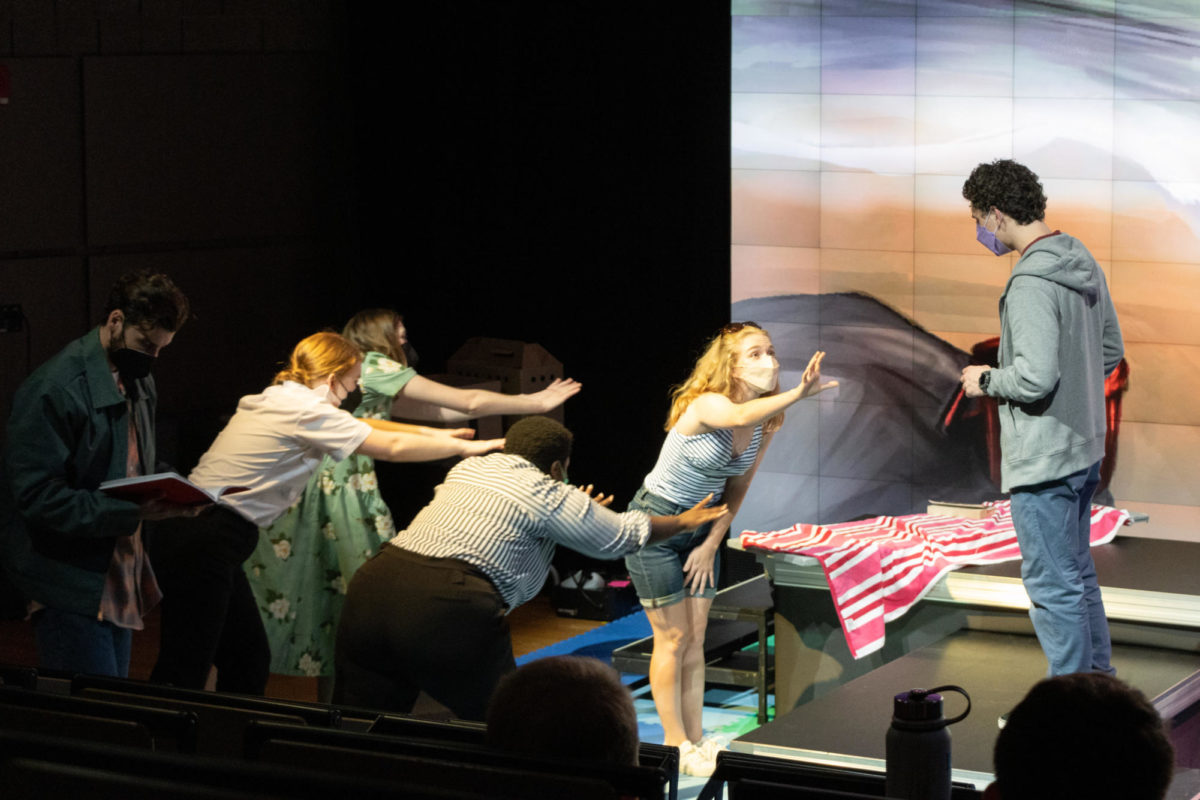 The School of the Art's Dance and Theatre program is proving theater can be put on anywhere. 
Due to construction in the Fine Arts Center, "The Curious Incident of the Dog in the Night-Time" is being held in a non-theatrical space, the Griffin Hall Digitorium. The new location has brought about challenges for the cast and crew, but has also provided some unexpected advantages. 
The Griffin Hall Digitorium is a 120-seat auditorium with a floor-to-ceiling media wall. There are no wings or a backstage in the auditorium. The cast is visible for the entirety of the play, which has posed a unique challenge for the actors. 
"Typically when you go off stage as an actor, it's kind of a private moment, you're able to relax, you're able to breathe out the energy of being on stage and being in character. But if you're visible the whole time, you can't ever have that moment where you breathe that tension out," said Christopher Ryan, director of "The Curious Incident of the Dog in the Night-Time."
The seats of the auditorium sit low and have attached desks that block the audience's view of the floor. The cast and crew had to adapt to this new environment and move the set further upstage to increase visibility, Ryan said. The desks also caused an accessibility issue. In order to be accommodating to all audience members, the opera boxes above the auditorium are an available seating option to those in wheelchairs and their parties. 
Since classes are held in the auditorium during the day and the play is put on later in the night, the set pieces have to be movable. To make this possible, the set is simplified, and the cast members move the set pieces themselves. 
"The lack of detail, especially in the set and in the scenery, almost adds to it. Our human imagination is incredible and we can come up with and see things way more than we think we can," said Gabby Casto, junior musical theatre major and cast member in the play.
The 120-seat auditorium is much smaller than the 317-seat Corbett Theatre, NKU's main theater stage. "Since it is a smaller space, it is more intimate with the audience, and it brings them into it more," said senior musical theatre and public relations major and cast member, Chloe Esmeier. 
Casto likes how close the cast feels to the audience in the space. 
Telling the story of 15-year-old Christopher Boone, "The Curious Incident of the Dog in the Night-Time" opens on Sept. 29 and runs through Oct. 8 in the Griffin Hall Digitorium, an unconventional performing space with surprising advantages. "Theater can be put on anywhere, you just need the people and the script, and then you can do your thing," said Casto.