Tales from abroad
NKU students bring home experiences from studying abroad
Learning about the French Revolution from a textbook and PowerPoint slide is one thing. Learning about the French Revolution as you stare at the towering Palace of Versailles near Paris is another thing. 
NKU Office of Education Abroad Executive Director Dr. François Le Roy has experienced teaching both. In short, Le Roy said studying abroad provides the ability to enhance the students' learning experience. 
But it is also much more than that. 
There are almost no words to describe one's experience after returning from studying abroad, Le Roy divulged. It really is something you must just go and see for yourself.
While there may be no right words to do the experiences justice, the stories of three NKU students who stayed in Italy, Greece and England are told below.
Italy
Reaching out and touching two thousand-year-old Roman ruins is a memory senior Shivani Patel will not soon forget. 
Patel spent 12 days in Italy, from Dec. 26 through Jan. 6. While the excursion started off a bit rocky, with her flight being delayed two days and having to detour to Detroit, the senior said it all added to the adventure. 
Florence and Rome were two of the destinations for the Kentucky Institute for International Studies (KIIS) experience. Patel took a course over sustainability in architecture and was able to explore the topic in all the sites she visited.
While a language barrier was an eminent concern, the senior was surprised by how many Italians knew enough English to get by. One thing she was certain to memorize, though, was how to explain she was a vegetarian when she visited restaurants. Patel remembered fearing her food experience wouldn't be as rich because of her diet, but a stellar pumpkin ravioli dish changed her mind.
Meeting new people was a goal of Patel's when she reasoned with why she should study abroad, and the program introduced her to friends from across the state and even West Virginia. She also wanted to introduce herself to the world of traveling solo, and she felt this journey was the perfect opportunity.
"I do want to travel alone in the future. The first step is to go to the airport and do things on your own, which I had no idea how to do. So this definitely gave me experience in that," Patel said.
Scholarships and support from NKU's Office of Education Abroad made the experience more attainable for the senior, and while she would have loved to stay in Italy longer, two weeks was a near perfect experience for her.
Greece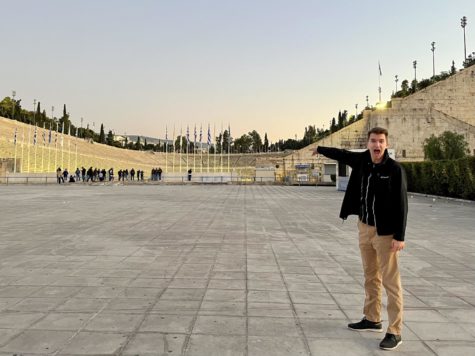 12 days in Greece taught senior Dylan Johnson to slow down and enjoy the small matters of traveling instead of obsessing over all the tourist to-dos. From Dec. 27 until Jan. 7, the NKU student spent his winter break in Greece through the KIIS program. 
Four of the 12 days were spent in Crete, a Grecian island, where Johnson was able to sit on the beach each night and relax by the Mediterranean Sea. He also visited the Acropolis and the Parthenon, as well as the stadium that hosted the first ever modern Olympics. These experiences were humbling, Johnson said, as he stood before architecture created 2,000 years before his time.
Johnson was not only in Greece to sight-see, although this was a large part of his personal reason to take on the experience. He also took a mythology course, where he attended class for around two hours each day and was able to apply his knowledge to the sites they visited. The 12-day experience gained the senior three credits. 
While Johnson had been out of the country once before, this trip was different in its need for independence and adaptability. 
"Everyday by 2 or 3 p.m. we were usually done and it was just whatever we wanted to do after that. So that was a little different, just walking around the streets, going to bars, going to restaurants and seeing what it's like to actually live there … I actually ended up really liking that part," Johnson said.
12 days in Greece reinvigorated Johnson's spark to travel in the future and he would encourage any student pondering studying abroad to go for it—no matter if it's for two weeks, a summer or an entire semester.
England
A fall semester in England was the perfect length of time for junior Zayne Isom, who just returned from DeMontfort University. 
Isom was part of an exchange program, meaning she took classes at the university in England and was part of the international student program there, but she paid her tuition to NKU and was still considered a full-time student in the U.S. This setup was perfect for the junior because she was still able to maintain her NKU scholarships even though she was not physically on campus. The only price Isom paid to DeMontfort University was the cost of housing accommodations. 
Living with students from different cultures and getting to know her "flatmates" (the students whom she shared a floor with) was one of Isom's favorite parts of her experience. Everyone in her flat was an international student, with some being from Spain, Sweden and the Netherlands. Every Tuesday, Isom's flatmates hosted "Taco Tuesday," inviting over friends and dining together.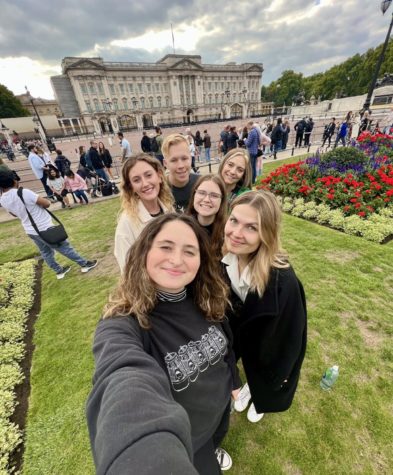 Taking a spontaneous long-weekend visit to Spain was another highlight for the junior, as she discussed just how unprompted many moments were.
"I think that's what I loved about it … every day was a new day and I had never lived in another country before, so everything was new and fun," Isom said. 
Even though there was no language barrier, the junior recalled having to adjust to a few culture shock quirks, like cilantro being called "coriander," trash cans being referred to as "bins" and a line being called a "queue."
Isom reflected on her time in the U.K. and felt a semester was the most ideal for her. The experience did not interfere with her plans to graduate in four years, so she didn't get behind. She was able to check many places and things off her experiential bucket list, while also leaving some things to be accomplished in the future.
NKU's Office of Education Abroad was an anchor for the junior throughout the entire process, from exploring options to filling out paperwork and then being fully independent at DeMontfort. Isom recalled Study Abroad Coordinator Anne Perry sending messages to check up on her, even a few weeks after she settled in England. 
After returning to NKU, Isom made a stop in the Office of Education Abroad and chatted for a long while with Perry about her experience. The coordinator's passion and excitement to hear about the experience of just one student is a testament to the office's care for students, Isom said.
Office of Education Abroad
Any student interested in studying abroad is encouraged to visit the Office of Education Abroad, located on the third floor of the University Center. No matter if a student knows exactly where they want to visit and what they want to study, or if they just know they are interested, the executive director said to come talk to them—and come often.
"It's about finding the right program for each student," Le Roy said. 
Study abroad programs cannot be improvised, Le Roy reminded. Most experiences must be made secure four to five months in advance at minimum, with scholarship opportunities coming to a close even earlier.
Le Roy says the reasons to study abroad are innumerable: understanding complexities of the world, increasing self-confidence, making yourself more competitive in the job market, realizing that you are capable of exploring the world we live in. 
He does heed one word of warning though: traveling is addictive. 
"It should come with its own warning label: this product is addictive," he said.
The Office of Education Abroad will be hosting a Study Abroad Fair in the Student Union lobby from 10:30-1 p.m. on Feb. 1, 2023.