For survivors of sexual assault, NVP provides space for self-care
February 12, 2018
The contents of Gabby Dralle's office: a "tranquility" jar marked with the words "let it go" sits by her desktop, filled with purple liquid that shimmers as you move it. To the left, a lilac dream catcher hangs on the wall, flanked by newspaper clippings and posters. Beside a pile of consent-themed Valentines and buttons sits a cactus in a DIY painted pot.
Each item is a product of NVP's self-care craft series, which Dralle, director of the Norse Violence Prevention center, says is open to anyone, not only the students who seek their office for resources.
"For anyone, self care is important. It's our job to take care of ourselves and make sure our cup is filled, because if we're not taking care of ourselves we can't give一we can't give to our academics, to our jobs or the people in our life," Dralle said. "We really do need to make it a priority to take care of ourselves and infuse that in anyway that we can."
For survivors of sexual assault, Dralle noted that this process is especially important. She always tells survivors that though someone did something terrible to them, their self worth and belonging is within and is not to be negotiated by anyone.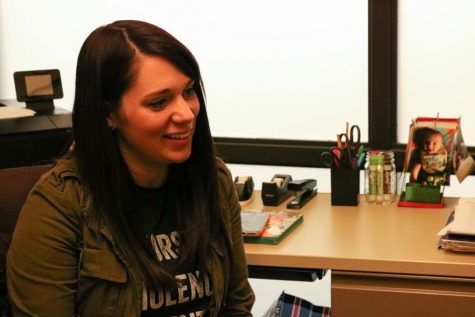 Her office space echoes this belief, not only in the aforementioned items marked with reassuring and validating sayings ("You are not alone. No one is alone."), but also in touches of personal sentiment. A photo of her small family sits on her desk. On a whiteboard is an even smaller outline of her child's foot.
"For me, I've always been very clear about how who I am and I never negotiate that with anyone," Dralle said. "I think for survivors they can really get that sense of self and belonging back in their heart and in their lives."
For survivors, the process of bringing that sense of belonging back into their lives is a journey. Every person's journey is different, as Dralle points out, as did Alex Vest, a double major history and sociology senior.
As a member of fraternal organization Sigma Phi Epsilon, Vest has organized the "Live Your Oath" campaign since it began in Spring 2016.
The campaign works two-fold: it creates social media awareness with a blended component of advocacy. This year's event will take place in mid-April, when students from organizations will hold up homemade signs, taking an oath to stand against sexual assault.
The timing intentionally falls during Sexual Assault Awareness Month, where Vest says the second half of the campaign comes in; alongside drawing awareness toward the issue, his fraternity also advocates for NVP and encourages students to attend their events.
The first year he worked on "Live Your Oath," he estimated that about 22 percent of Greek life participated. Within the year, the event saw a 10 percent increase. This year, in the wake of the #MeToo movement, he hopes to see about half of Greek life (and beyond) join.
For Vest, the campaign also takes on personal meaning.
During his first semester of college, he experienced sexual assault. With the community of his Greek brotherhood, he said he was able to begin to tell his story. 
"It was really that network with Sig Ep that made me be comfortable to be an advocate and an encourager of self love and have a network for people," Vest said.
That same network is what pushed Allison Kumar, student coordinator at NVP and a senior communications major, to work at the office and inspired her to pursue a job similar to Dralle's post-graduation; during her first retreat as a Theta Phi Alpha she was surprised by how many women spoke about being sexually assaulted.
"I knew a few things. I knew that this is a huge problem and does not need to continue, and that there needs to be a better support system for [survivors]," Kumar said. "I hope that one day there is a better environment in which people feel like they can come forward without being questioned or ridiculed."
Sitting at a desk outside the office, Kumar crafted consent valentines and bulletin boards for Resident Assistants (she's been an RA herself for three years). This is the work she loves. It's work, she said, that feels like it means something. Dralle shared the sentiment. Some students who utilize the office come every day, while others stop by on a weekly basis. There are no session limits, and Dralle's door is always open, even if a student simply needs a comfortable and safe space to eat.
Kumar places a hand over her heart, saying that for anyone–but especially survivors of any power-based violence–waking up every morning and knowing your worth is vital.
"Whatever happened to you is not a result of your life or not a result of the way you're acting. It's really about someone else and the problems they need to work through," Kumar said. "Being able to feel comfortable in your own skin and getting back to that is important. Once you realize that it's not about you, it's about them that's a good stepping stone to move on from that."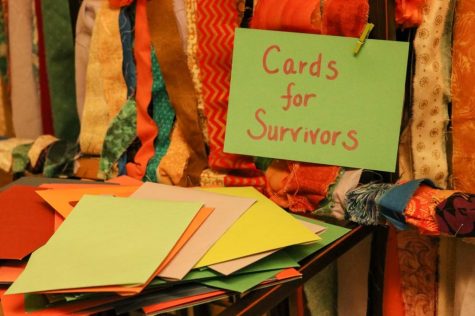 Throughout her time serving NKU, Dralle has met with freshmen because of traumatic experiences, and worked with them during those four years to get through the situation and ultimately graduate.
Seeing that process, Dralle said with a smile, is the most rewarding parts of her job.
Last fall semester, not necessarily because more students are getting hurt by violence, but because of growing awareness of the office, Dralle said NVP has served more students seeking their services than ever before.
"Helping the survivors is what fuels me and this work," Dralle said. She also realizes that the same process doesn't work for every student, including the reach for self-love.
"Especially for a survivor, we can work with them gradually and at their own pace, with what they're willing to do and when they're willing to do it. We never force anything on anybody. We try to meet them where they're at."
Dralle's constant motto is to lean into the discomfort; on the other side of that discomfort is everything you need.
She encourages students to surround themselves with a positive network. 
As a male survivor, Vest said it's been hard to speak about his experience.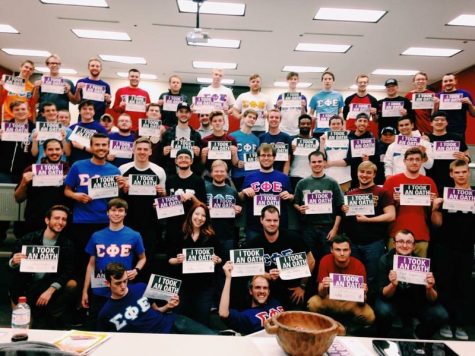 "Just knowing that there are other people that don't necessarily know you, but realize that what happened to you is not acceptable is an empowering feeling," he said.  "I think that the Greek community could be seen as a network of love for those that have experienced sexual assault and I know that there are people who are taking a stand against sexual assault on college campuses."
At NKU, Kumar finds that there are a lot of good people who put others first, but sometimes she said you have to take a step back and take care of yourself. 
For Dralle, she said being aware of her priorities, like family, and putting them first and foremost keeps her positive. Vest found empowerment through opening up and speaking about his situation, to make a negative situation a more positive one.
"If you look in the world for signs that you're not enough, you're going to find it. If you look in the world for signs that you are not good enough, you're going to find it. So, it's really important to not let other negotiate [your worth]."
The NVP Center is located on the third floor in SU 304 with hours Monday-Friday from 8:15 a.m. -4:30 p.m. They can also be reached through nvp@nku.edu. The next self-care event in the office's series will take place on Feb. 22 at 6 p.m. (these events are generally cut off at 5-15 people, so the group can have meaningful conversation).
Check out other stories in our self-care package: on how a community in Madagascar approaches the self-care, why liking yourself in a consumer culture is rebellious and the how different students approach concepts of self-love.