SOTA sticks to the script with fan favorites for fall production season
Northern Kentucky University's School of the Arts will kick off the fall theatre season with the Shakespeare comedy "A Midsummer Night's Dream." Brian Friel's Tony Award winning "Dancing at Lughnasa" will follow in October and fan-favorite "Beauty and the Beast" will close out the season.
A Midsummer Night's Dream: Sept. 28-Oct. 8 in the Corbett Theatre
Rehearsals for "A Midsummer Night's Dream" are two weeks in progress, with the opening day quickly approaching. Auditions for the show were last spring to give the cast ample time to gear up for the production.
Director Brian Robertson said even though the show doesn't open until the 28th, they actually need to have the show "finished" by the 22nd for tech the following day.
The cast spent the first week of rehearsals analyzing Shakespeare's script.
"Shakespeare's not something people can just walk into, so we spent the first week picking through the script and analyzing how he uses words, the rhythms and the meters of how he speaks the words," Robertson said.
With a production as well-known as "A Midsummer Night's Dream" Robertson said he doesn't plan to play with the story a lot.
However, Robertson did cross-cast several characters, having several females in typically male roles.
"It's sort of a nod to Shakespeare's time when it was all guys in every role. Plus I think the story is sort of open-ended on gender so we're playing with that," said Robertson.
In addition, the characters will be dressed in 40s and 50s attire. Despite keeping the story the same as the source material, Robertson has been able to show creativity with the production.
"I think anytime tackling a Shakespeare play, there's the opportunity to see if you can bring it alive," Robertson said. "That's what we look forward to. Can we make it meaningful even though it was written 500 years ago?"
This will be Robertson's first time directing "A Midsummer Night's Dream", but he's worked on the production in other capacities before.
"I got to see how other people approached telling the story and sort of tackled certain issues. It gives me a point of view, I have a perspective of how people tried to tell the story."
"A Midsummer Night's Dream" will run from Sept. 28 to Oct. 8 in the Corbett Theatre.
Dancing at Lughnasa: Oct. 24-29 in the Stauss Theatre
Daryl Harris has a penchant for utilizing his creativity when directing a production. For last fall's "Ma Rainey's Black Bottom" Harris brought multiple departments from SOTA together for the production.
With "Dancing at Lughnasa," Harris, the show's director, has challenged himself to keep it standard.
"I'm adept at going wild, it's more of an artistic challenge to keep it within the confines and still make it artistic, still make it creative and interesting," Harris said. "It's easy to be creative if you have no limits."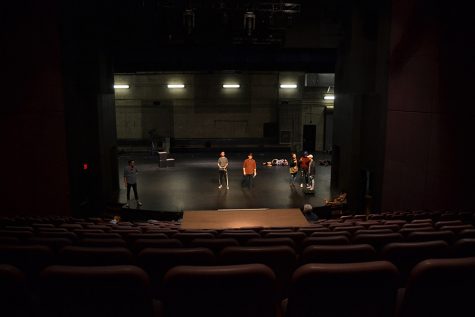 "Dancing at Lughnasa" is set in a fictional village in 1936 Ireland. It focuses on a group of sisters trying to keep their livelihood.
The sisters have one brother, Father Jack, a catholic priest who has spent the last 25 years working at a leper colony in Africa. The story shows the mental problems he's developed as a result of that experience and the English references he's lost.
"My emphasis in the department has been ethnic theatre," Harris said, "So I'm approaching this from the same perspective that this is from European ethnicity. As a professor of race, gender and theatre I want to sort of bring out that point that there are specific cultures within white and European cultures."
Harris also said Ireland has many ties with African countries and he plans to explore the similarities between Irish culture and Ugandan culture in particular.
Another goal for Harris is to draw the audience into a world they are "viscerally captivated by."
"My audition requirements were 'Tell me a captivating story, something that draws me there.'"
The production will be held in the Stauss Theatre, which seats roughly 100 people. The space is a far cry away from the 300 seat Corbett Theatre where "A Midsummer Night's Dream" and "Beauty and the Beast" will be held.
Harris explained he plans to set the stage "arena style" with seating on all four sides.
"It's my favorite way to set it in the space it will be, because it gives more of an intimate feel to the audience."
"Dancing at Lughnasa" will run from Oct. 24-29 in the Stauss Theatre.
Beauty and the Beast: Dec. 1-10 in the Corbett Theatre
The final production for the fall theatre season will be a familiar one: "Beauty and the Beast."
Director Mike King said "Beauty and the Beast" was chosen largely because of its mass appeal and ability to sell tickets as well as Disney's impact on Broadway.
"It's a type of show that is very popular right now," King said. "These are shows they will encounter in their professional lives."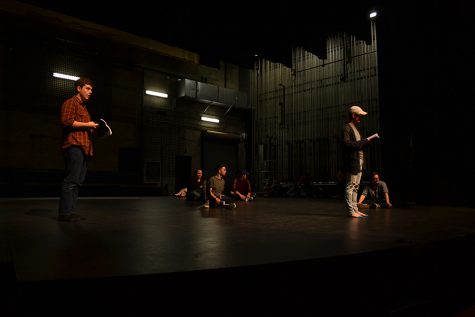 Like Robertson with "A Midsummer Night's Dream," King doesn't plan to tinker with the the base story.
"It is a show that's so well known people come in with lots of expectations," King said. "I'm certainly not coming in with many startling innovations, we'll try to keep to the story and the characters the audience knows and loves."
King said he rewatched Disney's animated adaptation and the more recent live-action version, deciding to stick with the more whimsical tone the animated film for his production.
"I want the show to be fun," King said. "The live-action one is quite a bit darker. I really like the animated version's lightness, so I'm looking for that tone rather than the grimness of the other."
King said about 160 students  auditioned for the production, a number he believes is a record for the school.
"It was interesting because it wasn't just theatre majors, it was a lot of different people, because the show is so popular as a movie," King said. "It went terrifically, tons and tons of talent in those 160 people."
While King has never directed or worked on "Beauty and the Beast" before, he said a number of people on his artistic team have.
"They're very good about saying 'this needs to be like this' and passing those onto me," King said. "It's one of those shows that I haven't directed but I've certainly been exposed to it."
"I listened to different cast albums, I've also done some reading about the myth and comparing the different versions."
King described "Beauty and the Beast" as an audience pleaser and said he wanted to make sure his production has an acting style that will appeal to the audience.
"Beauty and the Beast" will run from Dec. 1-10 in the Corbett Theatre.