Full-time student with a missionary heart
Brooke Turner's eyes drifted from her professor, to her phone, and back to her professor with swift movements, carefully taking glances at the information on her screen as the class discussed leadership around the world.
Her heart began to beat faster as she realized what was happening. The trauma felt close to home even though it was thousands of miles away.
Hurricane Matthew was ripping through Haiti as Turner felt powerless in Kentucky.
The NKU senior said her heart instantly sank when she heard about the hurricane that hit Haiti in October.
Turner, who has traveled to Haiti seven times since 2013 on mission trips, discussed how difficult it was to learn Hurricane Matthew blew through the village of La Digue, where she has friends and loved ones residing.
Interior Minister François Anick Joseph said that 14,530 people had been evacuated and about 2,200 homes were flooded or destroyed.
"The houses they live in were all I could think about. Their shelters can't withstand the hurricane because they are made out of sticks, mud and tarp," Turner said, tears beginning to swell in her eyes.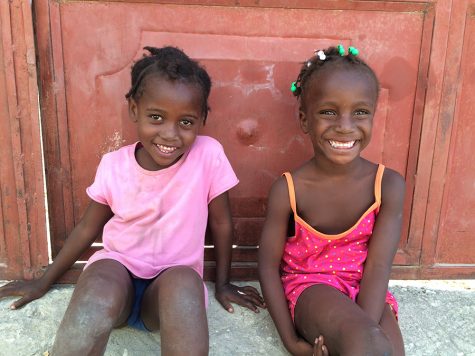 "I was worried about what life would be for them after the hurricane. How can they rebuild what little they had?"
A change in career path
When she first started at NKU in 2012, Turner pursued education, hoping to teach elementary students in the U.S.
After taking a semester off to spend a month in Haiti this past spring, she decided to return to school pursuing organizational leadership instead. The trip had changed her perspective on her education.
Turner said she would like to teach outside the United States.
"NKU's education program is outstanding, but it didn't feel like a passion. I know I should be thankful for my education because the children in Haiti would love to have my opportunity," Turner said.
"The children actually go to school to learn. In America, it's a requirement. In Haiti, it's a privilege."
Turner's passion for Haiti was not shared by her family.
"My family doesn't support my trips to Haiti, which makes it really hard for me," Turner said. "Whenever I talk about my trips, which is frequently, they don't show any signs of support."
After graduation in May of 2017, she plans to move to Haiti for at least a year. Her goal is to teach children there, so her background in education will not go unused.
Children's Lifeline, the organization she travels with, has its own orphanage with 20 kids living in it, ranging from infants to teenagers. Below the home is a school where the students learn French and English.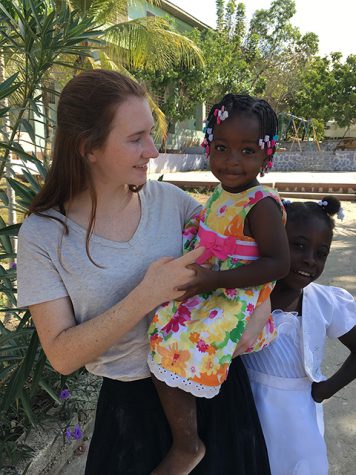 "Haitians speak Creole, which is really hard to learn because there are not a lot of resources available," said Turner. "You can only learn it well when you are submerged in it."
Since Turner is a full-time student, she is not able to go on her trips as long as she would like, with them usually spanning two weeks and her longest trip being a month.
"If I could, I would go the day we get out of school in the spring, until the day we go back in the fall," Turner said.
In addition to being a missionary and a full-time college student, Turner also leads Younglife ministry, which is an organization dedicated to high school students across the country.
"Haiti needs me"
At Dixie Heights High School in Fort Mitchell, there is a group of girls Turner loves and supports through the trials of high school. She attends athletic games, leads bible study and builds real friendships with them that last beyond the four years.
"I have a heart for ministry in America, but I know Haiti needs me," Turner said. "I try not to bring up my moving because I don't want them to think they aren't important."
Even forming new relationships is hard for Turner, because she knows her stay in Kentucky will not last much longer.
One of her closest friends, Katie Brown, started traveling to Haiti with Turner in 2015 after realizing she wanted to help hands on.
"The passion Brooke has for the kids inspired me to get involved and do more than just send money. Sending money doesn't compare to being with them in person," Brown said.
"My heart broke the minute the plane touched down. For miles all you could see was destruction," Brown said about her first visit.
Traveling across the sea takes more than just a big heart. It takes funds as well. A plane ticket alone can cost upwards of $800. Turner and Brown have both raised money by selling t-shirts in the past.
Over winter break, Turner returned to Haiti for the first time after Hurricane Matthew hit the country.
This was also Turner's first time traveling to Haiti without a friend.
"Unfortunately I will not be going with Brooke this December to Haiti because of family medical issues, but I will be supporting her as much as I can," Brown said. "That is why I am helping sell headbands to raise money."
Turner visited the central part of Haiti during her winter trip which meant she avoided a lot of the hurricane damage.
"We didn't see any destruction really," Turner said. "All of the streets are dirt and they got a lot of flooding, but it had obviously dried out by the time I went."
Turner said going alone this time was good for her because she was able to experience Haiti in a different way.
Instead of selling t-shirts this trip, Turner thought of the idea to create headbands to sell as she was skimming the fabric aisle at Hobby Lobby.
"I honestly saw the fabric and thought it would be a cute headband for me," Turner said. "Then my roommates all wanted one, so I thought, why not sell them?"
Turner, who lives with three other girls, used them as models to create awareness for her fundraising. So far she has sold $370 worth of fabric.
Where her heart is
Kylie Cain, a roommate and Turner's former Younglife student, is inspired by the amount of love Turner gives away.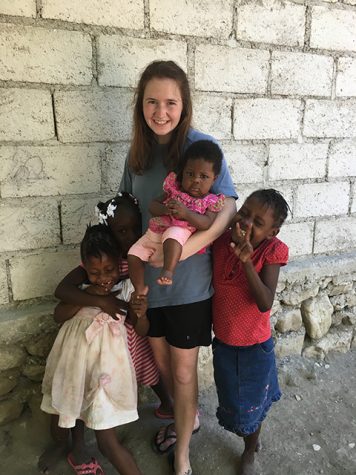 "Haiti is typically all Brooke talks about, and that is not a bad thing," Cain said. "She loves the Lord and other people so fiercely it rubs off on everyone around her. Living with her has been such a blessing."
"I remember picking her up from the airport in July and noticing a change in her eyes," Cain said, as she was sitting beside Turner on their living room couch. "She was happy to be home with her friends, but I know she left a part of her there."
Turner released a soft smile as she realized Cain was right.
"I have built my life in Kentucky. My friends are here. My school is here. My family is here," Turner said. "But my heart is in Haiti. When I am there, it just feels right."
Courtney Vasseur, who has never been on a mission trip before, considers it now that she lives with Turner.
"The desire Brooke has for Haiti is beautiful. She strives to be the best student she possibly can be while helping others who aren't as fortunate," Vasseur stated.
Walking through the front door of their home is a direct sign missionaries live there. Above the couch are multiple framed photos of the children in Haiti, along with a globe that reads, "Go and make disciples of all nations".
In Turner's room, a part of Haiti is hung on each wall. Right above her computer desk, there are photos of her with the orphans and symbols of Haiti. There is even a sign that states in bold letters, "Graduate college so you can move to Haiti".
"The hardest part is knowing life is still going on there and right now I don't get to be a part of it," Turner said. "After graduation, that will all change. Then, I'll be making a permanent difference."