Norse Explore guides future students
Students of a variety of majors are working for Northern Kentucky University as campus tour guides, leading Norse Explore group visits which aim to inspire elementary and middle school students to begin thinking about higher education.
Norse Explore, organized through NKU's Office of Community Connections, is one of three of the university's preschool through twelfth grade outreach programs. The visits usually consist of a presentation and discussion about preparing for college, followed by a campus tour guided by current NKU students and concluding with a classroom experience.
"It's about opening the student's eyes to what college is," said Melanie Hartzel, coordinator of Community Connections. "The sooner that seed gets planted in students, the more likely they are to explore those options after high school."
Campus guides regularly lead school-aged kids around the university, pointing out the location of departments, highlighting the variety of majors offered, discussing on-campus housing options and more. The visiting students are broken up into manageable groups, allowing the guides to somewhat tailor the tour to the interests of their group.
Katharine Higgins and Faith Pearce, both juniors at NKU, currently work as tour guides for Community Connections. After receiving an email detailing the dates and times of upcoming tours, they choose their own shifts, which they say provide them with scheduling flexibility that works around their classes.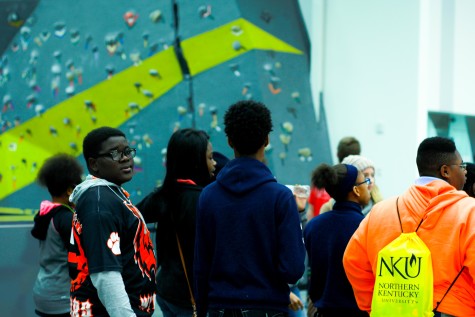 "I looked online for jobs at NKU and when I saw this, I thought it would be an interesting fit," said Higgins, who is majoring in psychology. "It seemed like more than the typical desk job; you get to do more with it."
Pearce, a secondary education major, was also looking for a job on campus when she found the program.
"My parents were always like, 'Work on campus! You won't have to drive anywhere!'" she said. "If you live on campus, you know it pretty well, so why not walk around, talk to people and get paid for it?"
On Feb. 26, Higgins and Pearce were among eight student campus guides who showed 43 8th graders from Withrow University High School in Cincinnati around NKU, answering questions and giving the visiting students an overview of college life.
Together, Higgins and Pearce took their group of about ten students to the third floor of the Student Union, where they spoke briefly about campus organizations. After the group expressed an interest in athletics, the guides took them to the Campus Recreation Center, where the students checked out the bouldering wall, pool and track before leading their group to the campus dormitories where they gave a rundown on living options and meal plans.
The group concluded the tour with a visit to the Haile Digital Planetarium, where Director Christa Speights showed them a couple of shows that explored the solar system. According to Hartzel, the shows are selected to best reflect the standards for state testing.
Jordan Merrell, a guidance counselor working in collaboration with Withrow, tagged along with the group Higgins and Pearce led.
Going on college tours is one way the school satisfies requirements for My Tomorrow, an initiative by Cincinnati Public Schools established "to prepare students with the real-world knowledge and skills they need to be successful in the workforce."
"I coordinated with Melanie [Hartzel] to get the trip set up," Merrell said as the guides led the group back to the Student Union for lunch.
Hartzel, who has worked with Community Connections for eight years, once served as an NKU campus guide while she was in school.
"My supervisor actually retired when I was graduating, and she's like, 'You should apply!' so I did, and I've been here ever since," she said. "I hire freshmen through seniors. I've actually even had a couple of graduate students. It's considered a work-study job, and typically I hire every fall. "
During an introductory presentation before the start of the tours, Hartzel asked the Withrow students about their career goals. 14-year-old Nshimirimana Liliane expressed an interest in secondary education, saying she is considering a career as an English teacher.
Her brother attends the University of Cincinnati, which she says helped her start thinking about getting a degree.
"He says a lot of good stuff about college, so it kind of helped me decide if I wanted to go to college or not," Liliane said. "My parents are all about education. Education is the key to everything."
Matthew White, an NKU senior who also led a group of the Withrow students, said that he thinks campus tours are particularly valuable to students whose first introduction to the idea of college life happens on visits like this.
"Especially for students who have never had the opportunity to visit a college campus until now, it gives them that exposure. It gives them the first step into looking into colleges," White said. "It gives them the facts and the figures of how universities operate, and they also get to see the campus and dorms."
In addition to campus tours, Community Connections' P-12 Outreach programs include ArtReach performing arts presentations and NKU Spirit Days, which "integrate arts, humanities, science, math and other academic components with student life and NKU enthusiasm."
More information about Norse Explore and Community Connections can be obtained by visiting http://communityconnections.nku.edu.