Holding the future in his hand
While many students at NKU will be fumbling with their keys to unlock their door after a day of classes, there is one student who doesn't have to worry about that.
Garrett Frey, a senior entrepreneurship major at NKU, doesn't need his keys to unlock the deadbolt when he gets home, that's what the radio-frequency identification chip in his hand is for.
He was introduced to the idea by Dangerous Things founder Amal Graafstra. Frey was watching a video where Graafstra was able to unlock his office door just by putting his hand on the door handle.  
"I was like, 'That's awesome, I want to be able to do that'," Frey said.
After a trip to Hendersonville, Tennessee, where Frey got the chip implanted for a total cost of about $150, he's able to do the same thing as Graafstra. The implant was put in at Evolutionary Studios, a typical tattoo and piercing shop.  
"That's how most of those places are, they take it up just as a supplemental income source," Frey said.
Frey said people are initially confused when they learn about the chip in his hand.  
"You have to understand the technology and what it can do, and if you don't you're puzzled," Frey said.  "You don't know why someone would do that."
Currently, the RFID chips are only able to do specific tasks, like unlock your door or send a specific text message from your phone.  
One of the biggest limiting factors is the lack of a battery.  The chips use radio waves to send a signal that turns the chip on for a split second to get the action to work.
"They're working towards getting it to use your own body, either your body temperature or the energy your body makes to power it," Frey said.
In addition to RFID chips, companies like Dangerous Things and Grindhouse Wetware also offer magnets that can be implanted in your fingertips as well as other implants like "North Star," a quarter sized implant that goes into the back of your hand that will show you you which way is north.
"Lately there's been a lot of work with computer hardware in the brain," James Walden, a computer science professor at NKU, said.  "However, it's pretty risky."
Some of these implants have been known to cause health issues. The fingertip magnets can be rejected by the body sometimes. The RFID chips pose no known health risks.
"There's not much hazardous stuff in the chips themselves," Walden said.  "The hazards are actually what they use to put the chip together."
Frey noted that he has never had any issues with his RFID chip.  
"I know people who are mechanics and have had their hand squashed and the chip's never broken," Frey said.
A potential issue for RFID chips is that information could be stolen. Frey mentioned that the information on the chips can be encrypted.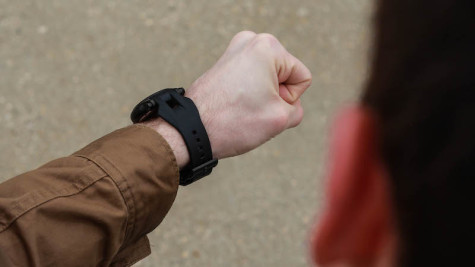 "If you're going to put bitcoins in your implant you're probably going to encrypt it anyway," he said. "It's more of a user error than any hacking going on."
However, Walden said the encryption process can be very difficult to do correctly and safety for many new technologies is often an issue that is eventually ironed out.
"A lot of times they put new technology out and it isn't very secure, then after a while they go back and fix it," Walden said. "It happened with computers and it happened with smartphones."
Frey is also involved with NKU's INKUBATOR program as a part of the EventSpider company.  
EventSpider is an app created by Frey and media informatics major Derek Daley. It is designed to help college students find out what events and organizations are going on around campus.
Frey's company was one of the final six chosen from 54 applicants to be a part of the program.  
"They were one of the teams that was really good about seeking advice," program manager and co-founder Zac Strobl said about EventSpider.
The INKUBATOR program was recently named one of the top five accelerator programs in North America by the University Business Incubator Index.  Strobl anticipates the program will get more applications this year in part because of this ranking.
"The ranking is something the teams can tell investors," Strobl said "That they went through one of the top programs in North America."