JSPH at MidPoint Music Festival
Over the Rhine was packed with music lovers Saturday night. At 8:30 p.m., the line to get into the Drinkery on Main St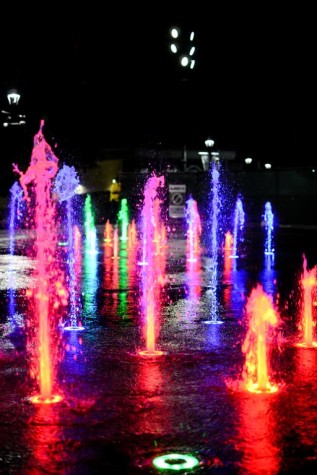 was 10 people deep. Shortly after 8:45 p.m. the stage lights went up and the band JSPH began their first song, "Victim".
The Midpoint Music Festival lasts three days. Its lineup of over 100 local bands includes JSPH, an R&B/Soul/Pop/Electronica hybrid.
Victim is an upbeat song from JSPH's first album, Rest. The band, which is made of six members, played seven songs from both their albums during their 25 minute set.
Lead singer Joseph Nevels opened with references to his Northern Kentucky ties and joked about the great distance it is to cross the Ohio River into Cincinnati. The crowd gave positive feedback from the beginning.
Chelsea Devers, a junior studying PR at NKU, said her favorite song is "Magnetic" because of its fast pace and layers of meaning in both the music and lyrics.
The Drinkery was packed with music enthusiasts of all varieties. JSPH has no stereotype audience, said Isaac Karns, 27 and friend of Nevels.
"This (JSPH) is a talented group of people everyone should be interested in," Karns said.
The crowd cheered and interacted with the band, Nevels assigned the crowd a singing part in the song "LMNM". The crowd happily did their part and sang their assigned, "ooh ooohh oooooh."
Emily Karns, 27, who was watching JSPH for the first time said the whole band was super sweet and fun to listen to.
Nevels said the whole set went really well with great energy from the crowd and community.
This show helped build experience for the band which will be playing again at Ubahn Fest this October in Cincinnati.
"I really enjoy this music. It is fun but still with lots of depth and hidden meaning," Sophia Beya, 27 and a backup singer for JSPH said.
The band ended with a crowd favorite, "Forever" which was featured in the Lifetime movie Wuthering High School.
With the set over, the band kept it low key, packed up their own equipment, and interacted with the crowd. Nevels said he is excited to explore other local bands at the Midpoint Festival.
"I am looking forward to Sylvan Esso tonight," Nevels said.
Beya said the mixing of genres is what really sets JSPH apart and gives it appeal.