Director visits NKU to promote first feature film
Documentary director discussed the largest relocation plan in history Wednesday March 18 after a special screening of his film in the NKU Digitorium.
There were nearly 60 people in attendance for the screening of "The Land of Many Palaces." Stanford graduate Adam Smith co-directed and co-produced the documentary, which was his first feature film.
The documentary is about the Chinese government's plan to migrate villagers into cities. Specifically, the film focused on farmers who have been influenced to give up their land and move into the city of Ordos, which is a newly modernized area.
According to Smith, this practice of relocating citizens in China is going to continue to increase in the future.
"This film is about a phenomena in China that will become much more common over the next two decades," Smith stated. "Since the Chinese government has announced plans to relocate around 250 million rural people to new cities across the country over the next 20 years."
The film explored both sides of China's urbanization plan by chronicling a government employee who traveled to rural areas to try and convince people to move to Ordos as well as a farmer who contemplated moving into the city.
The film took Smith and co-director Song Ting two years to make. They faced numerous challenges when it came to shooting, especially getting permission for various scenes.
"There were many things that we couldn't shoot that we would have loved to have captured," explained Smith. "All of the scenes we did with government officials we had to get approval for from their leaders, which was a real pain. There were so many scenes that they just said no to. Others we would ask for several times, but there was no response every time, which in China usually means no."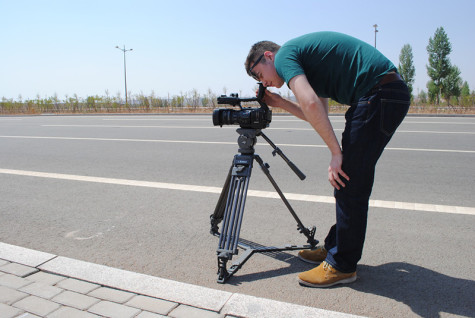 Photo Provided by Adam James Smith
Smith's inspiration for the film came from a series of photographs printed in a 2010 edition of Time magazine. The photos were apart of an essay about the construction of Ordos.
"After seeing those photos I just had so many questions as to why the city was built, who was it built for, who would end up living there, would it ever become a thriving city? It was those questions that drove myself and Song Ting to go out there and have a look at what was going on," Smith said.
The department of World Languages and Literatures hosted the event. Academic Coordinator Tiffany Budd was passionate about bringing Smith and his film to NKU because she believed it related to nearly all disciplines.
"There is a large push for transdisciplinary studies within the university and this is a really great expedition of that because you have the film aspect, cultural aspect, language aspect, philosophical aspect and there are just so many different approaches to it," Budd said. "It was a great thing to bring to our university so that we can make that connection among departments and ideas."
During the Q&A with the director the audience was eager to learn more about China's relocation program. Carly Hellmann, a freshman undeclared major, was also captivated by how the film provided unique commentary on how the world is evolving.
"It is cool to see how the world is changing and becoming more urban," Hellmann said.
Hellmann appreciated much more about the film than only the story. Every detail from the lighting to the composition impressed her.
"It was beautifully shot. From the very first scene I was completely mesmerized by the cinematography," Hellmann said.
For more information on "The Land of Many Palaces" visit: http://www.thelandofmanypalaces.com/