Professor memorializes the dead through 'Dogma'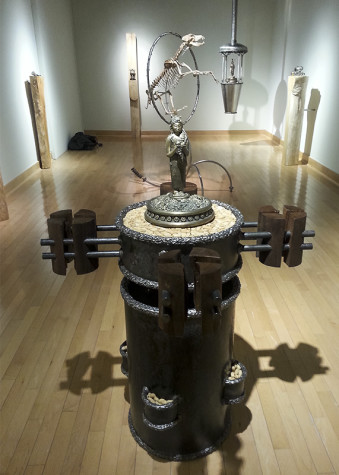 With his recent sabbatical exhibition, Associate Sculpting Professor Stephen Finke gives the phrase 'bringing art to life' a whole new meaning.
As part of a yearly showcasing of artwork created by staff members, Finke's exhibit, titled "Dogma," has been on display in the third floor gallery of the fine arts building since Jan. 16. The title of the show, which in itself refers to a set of principles that are incontrovertibly true, encompasses the overall theme of the exhibit. Each of the ten pieces Finke created out of wood and molded metal also contained the relic of a living creature, human or animal. These included teeth, bones, or even cremated ashes.
"I wanted to memorialize each creature," Finke said. "The pieces honor specific creatures but to the viewer, they also speak about the impermanence of life."
On Jan. 29, a public reception was held between 5 p.m. and 7 p.m., where Finke held a discussion to answer any questions guests may have had about his creations. Finke began his talk by thanking guests and colleagues for coming. He then discussed the details of his sabbatical, which is a period of paid leave granted to a professor for study or a specific project. Though Finke's sabbatical lasted a year, "Dogma" is part of a bigger project called "The Waiting Room" that he has been working on for over 13 years.
As Finke described it, "The Waiting Room" is a half-acre of forest that will incorporate the artwork from "Dogma" and other pieces relating to nature and the life cycle. The natural, solitary setting will give viewers the opportunity to reflect on the impermanence of life, according to Finke. The sabbatical exhibit itself heavily focuses on the inevitability of death.
"Dogma relates to truth, and it also relates to the dog," Finke said, in reference to the sculpture he created of skeletal remains of his former pet jumping through a hoop, just as he did when he was alive. "The dogma is the fact that reality, our existence, is always changing. We will always have an end, just like his [the dog's] end. Although, he's still jumping."
The sculpture was a popular piece among guests, and many commented on how it really embodies the theme of "Dogma."
"The show is about spiritual revelation, and enlightening yourself," Aaron Kurd, a junior studio arts major, said. "Seeing this piece makes me realize what kind of impact humans could have on nature."
The artwork of other fine arts staff was also on display in the gallery adjacent. Exhibits such as these take place every year, and students are encouraged to see what their professors have worked on when they are not teaching.
"They're teaching these skills to students, but students want to see what they do and why they do it so well," David Knight, gallery director, said. "There are pieces that will spark discussion, and artwork is about discussion and communication."
The exhibition will be on display in the main gallery until Feb. 6. All NKU students and faculty are welcome to view the artwork.