Along the Shore rocks the Thompson House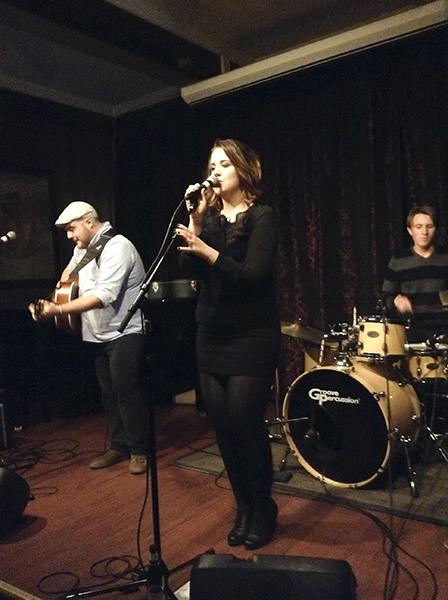 Along the Shore, who was supposed to open up for Red Wanting Blue on Saturday Nov. 29, found themselves playing upstairs in the Heaven Parlor of Thompson House in Newport, KY. In the audience, friends and family of the band grabbed seats while stragglers wandered in to check out the band.
Along the Shore formed five years ago, but the members have changed around since then as well as the band name itself. Senior electronic media and broadcasting major and guitarist of the band Kyle Rhodes, has been involved from the beginning.
Rhodes reflected on the first time he picked up a guitar, which was actually his brother's guitar that sat around his bedroom collecting dust.
"It sat in my room for the longest time and I decided to pick it up one day," Rhodes said. "But the minute I strummed the strings I was like… I'm gonna try it out."
Their drummer, freshman engineering technology major Chris Bishop, had been around music all his life, since his father played in a local band called Bad Sign.
The other two members are Claire Martin, vocals, and Joey Neal, bass. The band identifies itself as folk alternative.
"With us, the word 'fun' comes out a lot," Rhodes said.
Rhodes said that his influence for the folk side of his music would be bands like the Avett Brothers and Bob Dylan. Bishop noted that his influence was Rhodes.
"I'm  actually influenced a lot by Kyle," Bishop said. "A lot of what he plays, I don't know, it just kinda flows through me. It connects to my arms to my drums. It's like musical telepathy."
Both discussed their stage presence, Rhodes noting that he is more reserved off stage. Bishop touched on the first time he performed on stage.
"It was like sensory overload," Bishop said. "The song 'Let's Go', we had just written and it just kinda spoke to me. It felt very summerish to me so it felt like free spirit."
Along the Shore performed their own songs such as "Let You Go", "Only One", and "Don't Lose Hope."
"Don't Lose Hope" holds a special place in Rhodes' heart.
"We played a show and we played the song 'Don't Lose Hope'," Rhodes said. "I want people to realize that if they think no one is there for them, that we're there for them. All you can do is fail, but you tried and that's worth something."
Rhodes told the story of a fan in the crowd who said that song inspired her to go back to art school. He said they haven't kept in contact, but he hopes she pursued her dreams.
Along the Shore hopes to have an album out by next summer and to play several shows around the Cincinnati and Northern Kentucky area.
"I would just love for people to take us seriously," Rhodes said. "Like, 'Yeah, Along the Shore can pull a crowd together. They're good at what they do.'"
Along the Shore is on social media and you can find out more information on their Facebook page as Alongtheshoreky.
According to the Thompson House's site, Along the Shore will be playing there Jan. 10. Tickets can be bought here: http://www.ticketweb.com/t3/sale/SaleEventDetail?dispatch=loadSelectionData&eventId=5494375