Death Chat creates tailor-made support for students, young adults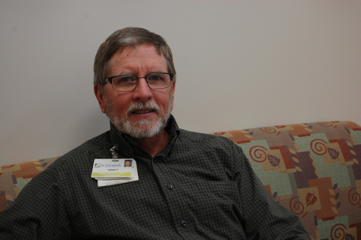 On Nov. 24 in the Student Union's lower level, James Ellis will host his group's third Death Chat. This is an informal and less structured environment to give young adults a chance to talk about death and emotions they may be struggling with relating to it according to Ellis.
"We're looking at the death café concept. It's a new movement in the United States, relatively new that's based around food and drink in a café obviously," said Ellis, the bereavement care coordinator for Saint Elizabeth's hospice for 21 years. He also teaches HSR 314, Death, Dying and Grief, at NKU.
The idea for a death chat stems from the concept of Death Café. However, they can't call it a Death Café because they are not using all of its principles, said Katie Osborn.
Osborn along with Brittany Corde are both former NKU students who graduated last December from the clinical mental health counseling program who are Ellis' co-facilitators and help run the group.
Nov. 24 will be the group's second meeting in the Student Union and third overall. The first meeting was held at Reality Tuesday on Dixie Highway, but Ellis decided it was not private enough.
"One of the biggest needs that we're running across is working with young adults who have either had a sibling, a parent, a grandparent die.. or even a fiancé," Ellis said .
Through Saint Elizabeth, Ellis has several support groups young adults don't fit well into the groups currently offered.
"There seems to be a demographic of young people that are still single, they're single longer and a lot of our groups are for spouse loss or child loss and they just don't fit into these groups," Ellis said. "So we need to have something that young adults, single adults that haven't been married, don't have children, that they have a place that they can come and deal with their grief."
It can be hard to work with that age group Ellis feels because they're so active and involved. They are grasping at straws to see what works, he said. Ellis is hoping the less organized nature of the death chat will allow young adults to drop in when they need to talk.
"Death chat is set up to be very informal and we want the students to kind of take the lead and talk about their experiences," Corde said. "So we're just kind of there to direct the conversation."
Ellis said their role as co-facilitators are to facilitate the sharing of stories and struggles. Groups of this nature have no intention of healing anyone with educated intervention said Ellis. The healing happens as participants share thoughts.
Osborn hopes the relaxed setting and accessibility of the Student Union will encourage people to visit.
"I would just encourage them if they want to come and see what it's like. They don't have to stay if it's not something they're feeling comfortable with," Osborn said.
 For more information about upcoming meetings you can contact James Ellis at james.ellis@stelizabeth.com or call (859)301-4611.