Waka Flocka's spooky spectacle says a lot about modern hip-hop
Entertainers can come up with some interesting twists on this most diabolical holiday during the end of the fall. Among all of those cashing in on the scary season was the one and only southern-fried gangster rapper, Waka Flocka Flame, and his recent appearance at Bogart's for his Halloween-themed fall tour.
His lyrics may be frightening enough to some listeners as he raps about the rough upbringing of growing up in urban Atlanta but one can rest assured that his performance, and especially his audience, was not nearly as intimidating.
Billed as a "Hallow-Rager feat: Waka Flocka" and presented by Rage Squad Entertainment, concert attendees were encouraged to show up in full costume and about half the audience took part. The majority of women present took the opportunity to clad the most revealing outfits possible while the men took a more comical approach to the whole thing.
As if Waka Flocka's tracks detailing gun violence in the streets and brazen fist-fights out in public wasn't enough, this was apparently his noble attempt at striking even more fear into his fans at the show.
This leads to an interesting analysis of the demographics of the night's crowd – it was a roughly 90 percent white, young adult audience. It was safe to assume that a good portion of the males belonged to fraternities from nearby University and Cincinnati were more than likely not the most consistent of concert-goers.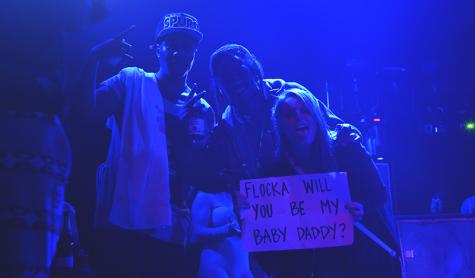 And this stands in stark contrast to the crew of dudes featured all over Waka's music videos; clearly the tales of the places he's coming from are not being picked up by a parallel group of listeners.
This branches out further to an even bigger can of worms and a possible contradiction in the entire hip-hop world. When it boils down to the two chief components of the gangster rap identity, it would have to be 1) being "hard" and 2) getting money.
But Waka Flocka's transitioning audience and sound is not an unusual one – plenty of rappers in the same arena have started out with a more hardcore style before easing up and marketing their music to the club/dance/rave fan typified by the average, party-going college student.
Case in point: Waka has left the tough streets of America's slums to the well-paved roads of the country's college campuses.
One casual observation at the masses attending a Lil' Wayne concert will undoubtedly point someone in the same direction, and that may even be a mild comparison to the legions of white, college-aged hip-hop fans who literally worship rappers like Wiz Khalifa among many others.
So now the question becomes a bit more complex: based on the formulated dichotomy presented above, can a rapper still stay hard and make as much money as possible? Or is a more profitable option to sacrifice one's hardness in order to make more money, as Waka has chosen to. These are the questions that must have kept thinkers like Aristotle awake at night.
While possibly pondering this philosophical quandary backstage, the featured rapper certainly took his sweet time in the usual hip-hop time warp before actually making it to the stage. Waka has in fact made a claim to go "Hard in the Paint," and if Friday night's performance is any indicator, he goes equally hard in the glow stick.
There were hundreds of these tubes of chemiluminescence being hurled into the crowd during the opening, forgettable DJs' sets and the audience gleefully threw them right back in every direction. While this may at first have seemed like way to keep the crowd engaged, it could have also served as an ulterior motive in trying to distract the audience from the headliner act's total absence.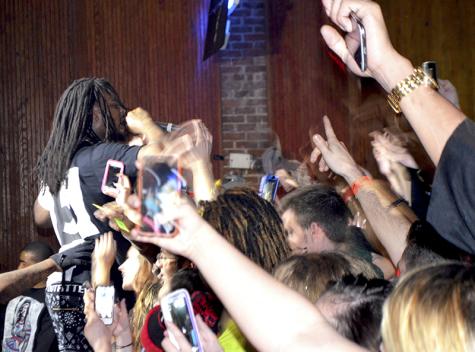 Even Karl Marx said that bread and circus were the means of distracting the proletariat from real issues – whether or not one would classify Waka Flocka Flame as a real issue is debatable, but bread and glow sticks are just as effective.
After the opening acts let loose their final spins of the evening, Waka hopped onstage with utmost enthusiasm and the crowd exploded. Now, this might be a good time to evaluate the specifics of the way the show was billed… the details of the ticket specified a "rager (party) featuring Waka Flocka," and that part is especially pertinent.
For anyone who was expecting a set full of Waka's hardest hits, they were sure to be sadly disappointed. It was only a matter of time after his first couple of opening songs that he jumped out to the audience and made them a part of the show – and this is exactly where the "rager" portion of the evening took full effect. Waka fully expressed his egalitarian ethics purely to raise the party bar, and greatly succeeded.
There's really only two ways to dissect this scenario: either Waka took a backseat in order to allow the crowd to take over the show or he intentionally had this planned from the get-go. The man either knows how to go with the flow no matter what the occasion or he's a business genius who walks away with the money if he didn't do any of the work.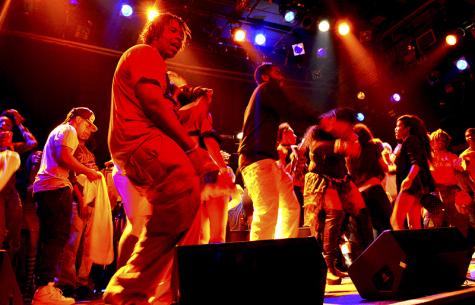 But this is precisely where solo hip-hop artists are going with this entertainment model that's as viable as it is practical. Once a rapper has risen to a household name and has created a sizable persona, the fans are completely satisfied in paying full ticket prices just to be in the same room as the guy.
So rather than deliver a full-fledged, show-stopping performance, why not just give the people what they want? If Waka's going to be walking out with the same amount of money either way, who can blame him? For better or for worse, this is a growing trend. Consider a pop culture phenomenon like "the Situation" from Jersey Shore getting paid ungodly amounts of cash to be somewhere and really wonder why a rapper would let the music part of his persona play second fiddle to his idolatry.
Celebrities get paid exorbitant amounts of cash to make appearances at popular clubs and bars in America's premiere cities all the time, so is it any surprise that someone would treat their tour circuit in the same manner? Like it or not, when "celebrity" and "performer" get blurred into one composite form or the former starts to outweigh the latter, this is bound to happen.
Simply put, people are just as moved by someone's mere presence as they are by their ability to showcase what made them famous in the first place. The rows of people backstage certainly weren't complaining after the show's close about a lack of showtime on center stage from the featured star of the night.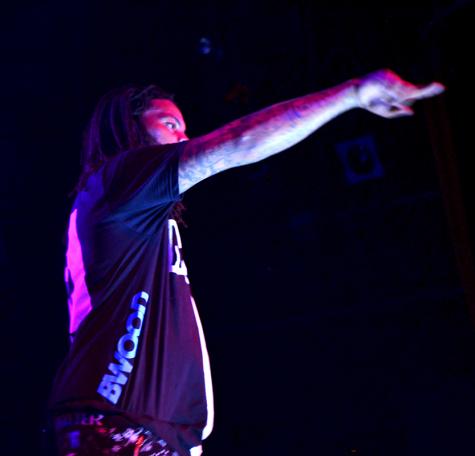 If the kids want to tell their friends that their Halloween party was one that included Waka Flocka Flame himself, they paid good money to retain those bragging rights. If only a small minority of fans want big-name rappers to stand alone and deliver the good using only their verbal weapons of choice, they may be less inclined to continue their concert attendance but such is the tyranny of the majority, even within the arts.
The most telling part of the whole evening came towards the very end: once Waka and the crew pulled every conceivable person onstage that they could fit, they actually started dancing to songs that aren't associated with Waka Flocka in any way whatsoever. Everything from Nicki Minaj's "Anaconda" to Juicy J's "Bands a Make her Dance" were in full rotation and no one seemed to care one way or another.
With all this in mind, it seems fair to conclude that the stage is completely irrelevant. Whether you're at a party or a concert, you're going to hear the same songs. And even if Waka Flocka Flame is a guest at your party or the guest of a night's performance, nothing changes.
As the final notes filled the hall and Waka made his inconspicuous exit, the promoter stepped to the microphone and announced that anyone with an upgraded ticket would get a chance to meet Waka Flocka backstage. Once again, if you can't sell a ticket for a performance, you might as well sell your unwavering ability to just be yourself.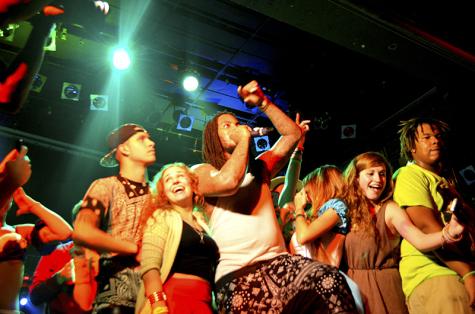 It's not all bad though; one woman brought her young son who couldn't have been more than 10. Perhaps with the intent of having him learn the delicate art of partying at the youngest age possible, he stood alone and proud in the "13 & younger" demographic. Wu-Tang might be for the children, but Waka Flocka Flame is making up for a close second.