NKU winterguard team to hold auditions
As a freshman Sayre Frederick knew exactly what kind of extracurricular activity she wanted to sign up for when she came to NKU. Upon arriving however, she discovered that the university did not have the team she desired to join and immediately jumped into action.
Kassidy Stricklett
Throughout high school Frederick participated in her high school's winterguard team for many years, and decided that she would like to create her own sports club at the university so that she and other students could participate in winterguard competitions.
So Frederick created Skara Winterguard. Skara is the norse name for a seagull, which the team believed would help represent the university.
"I've been doing this for quite a long time — nine years to be exact," Frederick, coordinator and director of the Skara Winterguard, said.
A Winterguard team is similar to a color guard team, but Winterguard competes indoors while color guard competes outdoors and normally performs with a marching band.    
"It's kind of like a modern art dance troupe, performing in front of a live audience," Frederick said.
Frederick began the process of creating the team in 2012, but the team wasn't able to compete until the 2014 season when all of the paperwork and details were finished.
Sophomore Cameron Powell is the vice president of the Skara Winterguard team, and helped Frederick throughout the process of creating and forming the team.
"This is really Sayre's brainchild," Powell said. "I've kind of been helping her from the beginning… so I've been with her every step of the way doing as much as I can to make sure we have the recruitment, the facilities and we have all the paperwork filed, which is the least fun part of the whole process."
Angela Aber, coordinator of fitness, is the staff advisor for the Skara Winterguard team. Aber, who competed with a winterguard team in the past, was very interested in the team when Frederick contacted her.
"I was really excited when I found out that students wanted to create a winterguard sports club on campus," Aber said. "I'm very excited to be involved with the team and I love to watch them choreograph routines and put a show together. It's really cool to watch them grow as a team."
Despite only having a minimum of five people to compete and being a brand new team in the competition, Skara Winterguard took home a bronze medal at the Tri-State Marching Arts Championship in 2014.
"There were only five of us, but we still ended up getting a bronze medal on our first year out, which is remarkable in and of itself," Powell said.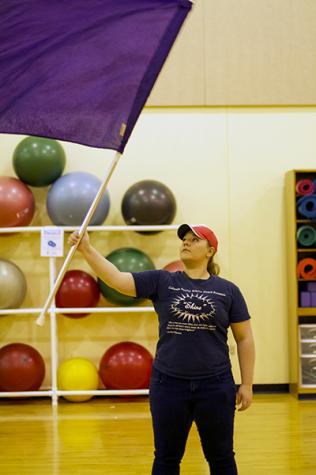 Frederick is hoping to win bronze again or even silver or gold at this year's championships. Another goal for Frederick this season is to expand the team from just five members to 15-20 members.
"If I could get more than 20 people I would be very happy," Frederick said. "Then I would know that this program would be at the point where people could take my place and I could just watch it grow on it's own."
With auditions on Nov. 9, Frederick and Powell are encouraging students from all different levels of experience to come and audition for the team.
"I was hoping for a little bit of experience," Frederick said. "But I am willing to work with anybody.  If you just want to try and come to auditions just to see what it's about I'm fine with that. The only thing I ask [you to bring] when you come into practice, is a good attitude."
According to Powell if someone wants to be involved with the team they will find a way to get them involved, whether it's actually being on the performance team or just helping with equipment. He believes an audition is just the baby step to becoming part of something larger.
"The audition process is just fun," Powell said. "You just go in and you learn a really fun dance routine and you stretch. It's really more of a physical thing opposed to me and Sayre guessing how good you are at something. And it's like you're there and you make friends…I literally don't know anybody who makes friends faster than a guard person."
Skara Winterguard auditions will occur Nov. 9 from 1-5 p.m. at the campus recreation center. The results of the audition will be posted on the Skara Winterguard official webpage. For more information please email skarawinterguard@gmail.com.