King's Island haunts NKU students
Most college students find themselves ducking behind cash registers or driving around in a pizza delivery car. However, some NKU students have landed a job scaring customers at King's Island's Halloween Haunt. As the fog rolls in, two of the scarers emerge from the theatre department: Bethany Ellen and Josh Newman.
Cat Scratch Fever  
Bethany Ellen, a junior public relations major with a double minor in journalism and marketing focusing in theater, began her scaring career in 2011 after her mom encouraged her to apply for the job.
"I didn't want to do it at all," Ellen said. "My mom was like, 'you need a job and you like to act and you can do this'… Since then I've never looked back."
Ellen's character is a cat girl whom she says has "cat scratch fever."  While acting in her role, Ellen crawls around on the ground, sounds like a cat, or sometimes will talk to the customers. She works as a "roamer", a scare actor not designated to a haunted house and has the opportunity to walk around the park scaring customers.
Both Ellen and Newman touched on the family aspect of working at Halloween Haunt during their first year of working there. Ellen began in Holiday Horror which is one of the haunted houses with different holiday themes. She worked mostly in the Thanksgiving room, noting how hard it was to make that scary.
"I would say things like, 'you're late for dinner!'," Ellen said.
In her first year, a lot of the crew became really close and formed a bonding friendship. Ellen talked about how first year workers bonded through being newbies.
"We literally are stretched from California to New York," Ellen said. "We all still talk regularly and meet up once a year."
As for the acting aspect, Ellen said that improvisation acting is probably the most utilized.
"If you're in cat makeup, you better do something," Ellen said. "It helps a lot with staying in character."
Ellen also talked about Mason, one of the younger customers who fell in love with her character and followed her around while helping her scare other patrons.
"And he goes, 'hey kitty!'" Ellen said when talking about Mason. "And so I crawl over there and he grabs my face and gives me a kiss on the lips. And he says, 'you're pretty and I love you.' He was running his hands on my skin, the painted skin…It was just interacting with that kid and seeing his wonder in it and realizing that this isn't Disney World. This is far from Disney World. It's dark and it's scary and to see his wonder in that… It just gave me the realization of this is why I do what I do."
"It's the greatest thing. It's what keeps my sanity," Ellen said. "And also what takes it away."
Victorian Husband Killer
Josh Newman, a junior costume design major, has been working as a scare actor for King's Island since 2012. Newman also works as a roamer for the park.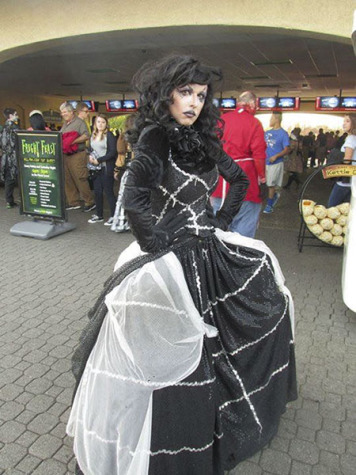 Photo courtesy of Don Helbig
"My character is the Black Widow and she's traditionally done by a man," Newman said. "She's this Victorian husband killer and she's kind of… She's very like refined at moments, but other moments she's disgusting. What I like the most about her is that she doesn't know she's psychotic."
Being a roamer comes after a scarer has gained enough experience since the roaming job requires interacting with the general public.
"It didn't take me as long because I'm a drag queen," Newman said.
As a "roamer," both Ellen and Newman have to get creative with their surroundings. They can choose to interact with customers, other scare actors, or move around the park in different areas.
"I would say it's harder because I started out in a house and I loved it, but it's a little easier there because you have an environment that was made for you. It was made for your characters," Newman said. "You're always given a 'spot'… You have scares available to you. With roaming, other than fog, you don't really have a lot of atmosphere around you. You really have to sell that character so much."
In Newman's first year, he was in Madam Fatale's Cavern of Terror where they originally stuck him in a corner.
"I was like, 'really? You're putting me in a corner? I mean, I guess I'll do the best I can'," Newman said. "But after awhile I showed my manager I really loved scaring and interacting with other guests so she put me in different places. One day we were missing a Madam and I was like, 'you need another?'"
For the second half of his time there, Newman played as a Madam. And even now, since Newman took on that role, Halloween Haunt continues to have a man play that role.
"That makes me so happy because it's good to know that there's like a legacy," Newman said. "And also I'm sure that other drag queen boys that are really wanting to start out now find that opportunity to try that out."
For Halloween Haunt, Newman actually does his own make up and prepares himself for his shift. Both Newman and Ellen discussed how difficult the season has been, but say it's worth it.
"It's harder than you expect," Newman said. "But it is really rewarding at the end of the night. That really just gives me the energy to do it every night."
Halloween Haunt will continue to run until Nov. 1. This will be Ellen and Newman's first Halloween Haunt that is held on Halloween.