NKU graduate returns to play the Southgate House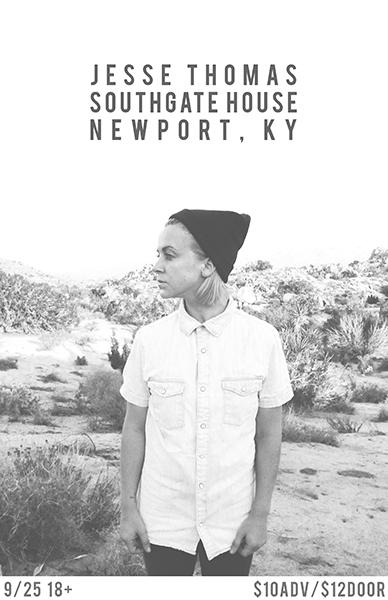 Six months after moving to Los Angeles to become an actress, Jesse Thomas had run out of money and her lease was up.
"I moved in with my buddy who played in Goldfinger. The only reason I knew him was I went to a Goldfinger show like right out of college and ended up meeting one of the guys," Thomas said. "I told him I didn't have anywhere to live and he was like 'you can come sleep on our couch.'"
Thomas had left her apartment in the valley and was homeless, but she was excited to be hanging out with members of Goldfinger while staying on their couch. During this time she ended up playing guitar more frequently and went to an open mic night to perform.
Prior to this she had fiddled around and wrote some songs while living in Fort Wright, Kentucky, but it was nothing she was serious about.
"I met a guy at the show and we became Myspace friends, cause that's how long ago it was, and then I wrote him a Myspace message on his wall," Thomas said. "Meanwhile someone checking out his page checked on my page and liked my music."
The man who liked her music was Jim Roach, a producer who would start working with Thomas and eventually sign her to his label, Red Parade Music.
"I immediately freaked out when I heard her voice," Roach said.
Roach felt that her songs were okay but her voice was great. He encouraged Thomas to take a month and work on improving her songs. Roach said after three weeks of woodshedding herself in an apartment Thomas started emailing him songs she had been working on.
Thomas soon made a demo and got a manager. Her song "You I Want" was a Starbucks pick of the week and she released her first album "War Dancer" in 2012.  
Her most recent album "Burn The Boats" was released in May of this year. A vinyl copy will be released in October.
"What she's doing now is more mature and developed," Roach said.
Thomas' song "Stolen Limosine" has been featured on "Hart of Dixie" and other songs of hers have been on shows like "The Fosters".
"It is personal and my songs are usually pretty from the heart. They mean something to me which I hope translates when I play them live," Thomas said.
Thomas said her influence for writing songs comes from personal experiences, conversations with friends, or ideas that get turned into stories. Musicians like Fiona Apple, Brandi Carlile, Laura Marling, Patti Griffin and Freddie Mercury also keep her inspired.
"I always had this vision of playing music, but I was always too busy playing sports," Thomas said.
She played two years of softball and one year of soccer during her time at NKU, where she was a radio television major. Chris Strobel, communications professor, remembers her enthusiasm while working on projects.
"[She's a] creative person, focused on getting things and getting them done right. Whatever it took. Long hours," Strobel said.
Thomas said the most musical thing she had ever done before moving from Fort Wright to Los Angeles six years ago was writing a funny song while on a bus trip for soccer.
Thomas will play at The Southgate House on Sept. 25th. The show will include a full band with some of her old friends from Kentucky joining in. This will be her second visit home to perform this year.
"I just played the Bunbury Festival and that was a lot of fun and great, but I'm excited to play the Southgate House because it's like a real venue. Bunbury was so spread out and outdoors," said Thomas. "I'm excited to just get into a club. It's more my scene."
For more information visit iamjessethomas.com